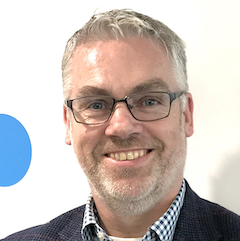 FluidOne CEO Russell Horton opens up on his current challenges and opportunities.
What do you see as the biggest leadership challenges at this time?
When working remotely it is much harder to identify the soft issues and gauge the informal temperature of how things are landing with staff. You cannot assume that everyone understands the overall company vision and buys into it – you have to bring the people along with you. Ensuring our acquired staff feel part of the wider culture, while embracing the overall vision and ambition of FluidOne, has been another challenge made more difficult due to remote working. A CEO introduction covering the FluidOne vision, mission, strategy, priorities for the year and culture has been key in ensuring all new starters feel part of the team.
Our leadership team makes sure to cascade the top five company objectives across the business to ensure everyone is aligned and understands what role they play in contributing to the overall company goals. Every month, colleagues nominate each other for staff awards that recognise and reinforce living the company values.
 
Additionally, when acquisitions have separate cultures, it is tricky to ensure each team, company and office is aligned. Engaging with various managers and staff within each of the offices, and/or company, at multiple touchpoints has proven to be an important and effective way to drive alignment. Early inclusion in company events and communication has also allowed us to build strong connections.
 
Your biggest opportunity? And how are you addressing it?
Covid-19 has accelerated the move to the cloud for applications as well as the need to evolve networks and especially security since users and applications no longer sit inside the traditional perimeter defences of the IT network. This makes the management from end user to application, wherever they are, more complex for in-house teams to manage as it is typically a hybrid environment using multiple vendors and technologies. Being able to provide our clients with these services has proven to be a great opportunity.
 
What trends are you seeing that interest you most and why?
The adoption of SD-WAN solutions and hybrid networks is a growing trend. While I think the evolution of SASE is more for enterprise today, I believe it will trickle down to the mid-market and will be a key trend over the next two years. Also, the explosion in cyber threats over the past 12 months is not something to be ignored, as demonstrated by rising customer awareness and the growing need to invest in cyber security.