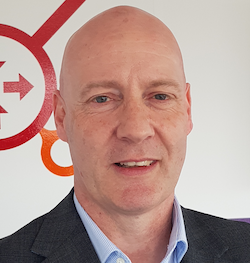 Commsworld Chief Operating Officer Bruce Strang discusses the driving forces and competing priorities shaping the Edinburgh headquartered network provider's strategic outlook and growth planning.
The primary drivers propelling Commsworld's growth trajectory include a continuing push into the public sector which has helped to generate a 20 per cent increase in turnover from £19.2 million in 2020 to £22.7 million. This year the business is targeting 15 per cent top line growth; and the delivery of significant digital transformation projects in the public sector will likely necessitate a headcount increase of between five and ten per cent. Gathering momentum will also be fuelled by healthy B2B sales in the commercial sector with the 2025 PSTN switch off stimulating new opportunities, and presenting fresh challenges.
 
Another priority is to innovate and focus on quality of service, noted Strang. "These priorities feed into our main objective of continuing to grow our customer base in the commercial and public sectors," he commented. "Our biggest long-term opportunity is to play to our strengths through the expansion of our UK-wide optical core network which has transformed the security and resilience of digital infrastructure for organisations the length and breadth of the country, offering speeds of up to 200 gigabits per second. Two years on from its completion, the network has helped boost our customer numbers, contracts and figures."
Strang's top priority is to ensure Commsworld is ahead of schedule with the large digital transformation projects it's currently delivering, including Renfrewshire Council and North Lanarkshire Council. "In North Lanarkshire we have completed the first 120,000 metres of ultra-fast full fibre network across the region," he added. "This amounts to the first third of the entire 340 km of fibre infrastructure in place and means we are on track to complete the infrastructure network by next summer, which will give homes across North Lanarkshire access to gigabit-capable broadband years earlier than planned."
Commsworld is seeing more local authorities, not just in the towns and cities but also across rural counties and regions, understand the value of procuring large digital transformation programmes that accelerate the investment in fibre.
It's all about recruiting, developing and motivating the best people, which means creating the right work environment and culture
"They are realising the role that technology and connectivity can play in promoting educational attainment, reducing the digital divide, the smart delivery of services and using technology to meet their Net Zero targets," commented Strang. "North Lanarkshire and Northumberland councils have used the procurement process to deliver improvements in connectivity for not only residents who never had access to broadband networks before but also to provide schools with uniform access to speeds of up to 1Gb per second. This will be a game changer for the next generation in terms of equality of access to the best digital resources."
The ability to balance competing priorities is an important aspect of today's business environment. For example, Commsworld balances the need to build new infrastructure without causing disruption to people going about their daily lives. At the same time, as Chief Operating Officer a personal priority for Strang is to continue to support Commsworld's people so they are able to maximise their focus on the firm's objectives. This includes improving the post Covid-19 pandemic office working experience, which Strang says should be a key objective for today's business leaders. "It's all about recruiting, developing and motivating the best people, which means creating the right work environment and culture," he said. "This is a key element of future success."
The biggest short-term challenge facing Commsworld is also one if its biggest opportunities – the PSTN switch off in 2025. "The challenge is to make businesses that have not planned ahead for the PSTN shutdown to recognise that they need to start preparing now," noted Strang. "We impress on them that the clock is ticking and that they will need to prepare eventuality. On the whole, we have achieved success with this approach and customers have taken 2025 on board.
"But the challenge of tomorrow will be that many companies will find themselves joining a long and growing queue of organisations desperately seeking to resolve their requirements too close to the switch-off deadline."