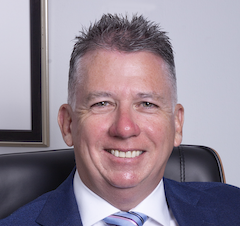 Having secured Microtech Group's long-term future in Ayrshire by becoming an employee owned entity MD Chris McMail has ramped up his growth ambitions.
Kilmarnock-based Microtech has two divisions – Microtech Support and Microtech Health, and for 35 years it has specialised in the delivery of end-to-end IT services to the public, private and third sector. The eHealth business focuses on technology to manage patients with long-term conditions; while the support arm operates in telecoms and digital marketing including web design, brand development and social media management.
McMail established Microtech Support in 1986 to provide IT software and services to SMEs. "In the early 1990s we extended our client portfolio, introducing Ayrshire's GP practices," he explained. "NHS Ayrshire and Arran consolidated the IT contracts for all practices in Ayrshire at this time, and we were fortunate to win this tender. The contract helped us build a relationship with some of the IT teams within NHS Scotland and also introduced us to the applications used within GP practices. At the same time, we became the Scottish Distributor for a Document Management (DM) Application, used exclusively within primary care."
In 2004, NHS Scotland issued a National Framework Agreement for Docman, and Microtech was awarded the contract which started an 18 year relationship with NHS Scotland. "This was a massive achievement, exposing us to every GP practice in Scotland," added McMail. "This application is now a core component within GP practices and the software forms an integral part of NHS Scotland's strategic IT healthcare policy. Our team is responsible for supporting every GP practice in Scotland and Northern Ireland, with in excess of 20,000 users and management of over 200 calls per day at the Kilmarnock service desk."
In September Microtech Group became a majority employee owned company with 74 per cent of the business shares being transferred into an Employee Ownership Trust (EOT). McMail favoured employee ownership to any purchase offers. "After making the initial decision to explore options for the future, I received various offers," he said. "However, none of these guaranteed the continued operation of Microtech in Scotland, which took so much hard work to build. It soon became apparent that any sale of the business to a third party would result in drastic changes to the company operations, including potential relocation and possible job losses. When the proposal of transitioning to an EOT was suggested, I knew this was the best way to secure the company's position in Ayrshire."
When the transition to an EOT was suggested, I knew this was the best way to secure the company's position in Ayrshire
Microtech currently employs 70 staff and generates circa £5 million turnover. With the release of its Health Portal, which supports remote consultations and Digital Patient, Microtech forecasts annual growth of 10-15 per cent. "Greater pressure from high waiting lists caused by the pandemic, as well as the requirement to meet NHS targets has meant an increase in demand for our Telehealth solutions," said McMail.
"We will continue to grow organically with a heavy focus on our current product set and we have a well defined development roadmap built around customer priorities. We will also continue to look for more acquisition opportunities. In parallel, we are keen to investigate the Healthcare opportunities within Europe and the USA and expand the role of resellers in expanding our market reach."
Microtech's key technology partners include Microsoft, Cyber Essentials and Clinical System Providers. And aside from health, other target markets include SMEs, large corporate companies, private, public and third sector. "Microtech is well positioned to support businesses' transition to the new norm post-Covid," added McMail. "With changes in blended working arrangements there is a need for a dynamic, scalable and flexible IT infrastructure that supports our new way of doing business. We will continue to see the on-boarding of new clients to our IT solutions.
"Over the past three years we have transitioned from a traditional distributor of software products to developing and supporting our own applications within the healthcare space. We have built a strong innovative resource for healthcare providers. In 2020, Nick Fernando was appointed Commercial Director. He has extensive experience in Healthcare IT and drives the planning, development and implementation of commercial strategies."
These include a new capability, Microtech Health's BEAM, which provides an improved document delivery experience for the patient. All documents are converted to PDF as source and the patient is notified by their preferred method (BEAM mobile app, online portal, SMS message or email). Once registered, patients can view and access personal documents or provide access to a family member or carer. "Moving forward, we are looking at more advanced capabilities for BEAM, an intelligent way of corresponding digitally with patients," said McMail. "Our development roadmap will bring additional features to allow patients to engage with both Primary and Acute care. Our service is designed to complement and integrate with existing Clinical Management Systems and document management systems."
McMail's top priority is Microtech's latest capability – MiHealth Portal from Microtech Health – a secure web-based platform specially designed to communicate important health information between health providers and patients, with the goal of improving patients' health outcomes. "Our interactive portal connects seamlessly with other Microtech Health solutions such as our HealthPod remote patient monitoring devices, Digital Patient Correspondence and Patient Flow capabilities," explained McMail.
"The pandemic has further highlighted how technology can be better deployed in a number of areas within Healthcare to support Digital Patient and remote consultations. IT departments are now adopting a 'make it happen' attitude which was less obvious in the pre-pandemic world. Our MiHealth Portal puts us in an ideal position to capitalise on these opportunities."