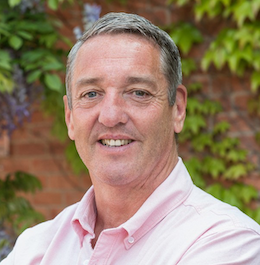 Connectus has kick-started its latest development phase with a revolving credit facility from Time Finance that will enable the MSP to expand on a number of fronts, says CEO Roy Shelton.
While Shelton's growth plans are underpinned by a new funding opportunity, his strategy is ultimately propelled by an ingrained will to win in the marketplace – a competitive streak that can be traced back to his sporty past. Shelton's determination and ambition is also reflected in the Time Finance partnership, because today's economic challenges mean that cost-effective funding lines are becoming far harder to secure. Having won the deal, and in terms of how Shelton can best impact the growth and development of the business, he says his primary focus is ensuring that the senior management team is well supported and has a clear understanding of his strategic objectives.
There are lots of great companies out there with good offerings that fail to scale due to a lack of collaboration. I would welcome MSPs coming together more to share ideas on growth, resourcing and technology roadmaps
This will be key to the success of the next phase of Shelton's business plan, just launched and called Project Shrigley (named after the venue where Connectus held its planning workshop). "The plan outlines our objectives, KPIs, roles and responsibilities," explained Shelton. "With this in place I focus my time working with our Chairman and advisers on new acquisitions, additional potential funding and business development."
Meeting demand
With more cash in the war chest Connectus can meet increased demand for its managed services portfolio in a number of ways, including additional fibre network design to build and operate models across several business parks. "We are also investing in more capacity for our hosting which is now across two locations in Doncaster and Salford," added Shelton. "And we want to upscale tooling and staff training on cyber, network and data security."
When Shelton joined the business in January 2019 revenue and profits were declining. Over a year of hard work followed, rebuilding confidence in the organisation, rebranding and extending the product and service offer. "We had just started to gain increased traction when the challenges of Covid hit us all," stated Shelton.
But despite the pandemic Connectus has created 12 full-time jobs and two apprenticeships, opened an additional office at the AJB Bell stadium, and grown the client base by 400-plus per cent. The customer profile is predominantly SME, mid-size enterprises and professional sports clubs, all helping Connectus deliver 47 per cent year-on-year growth with EBITDA sitting at 18 per cent. "We foresee significant growth in our current customer base with the launch of our client success programme and customer charter," added Shelton. "We are not desperate to find new clients and partners but will seek out the ones that bring significant and mutual value."
He noted that demand for cloud services, secure hosting and security is booming and will increase due to the need for more collaboration and the growing cyber threat. "Companies want to consolidate the number of vendors they work with and are looking for more trusted partners who take time to understand their business needs," added Shelton.
It's all about winning and creating value for our team, customers and partners
The task of building out services is ongoing and Shelton's main focus areas right now are cyber, data and network security solutions leveraging AI. Power BI and Dynamics is also on the radar screen. Against this backdrop of emerging opportunities, Shelton urges the channel's business leaders not to be afraid of more collaboration. "There are lots of great companies out there with good offerings that fail to scale due to a lack of collaboration," he stated. "I would welcome MSPs coming together more to share ideas on growth, resourcing, technology roadmaps and much more. Other industries do this well and create a lot of value."
Balancing competing priorities is a challenge for all business leaders and Shelton accepts that 'we can't be all things to all people', so qualifying priorities quickly is key. "We always look at low cost high value priorities which have a compelling ROI," he stated. "Cash is king and ensuring we remain good stewards of capital is crucial to any organisation's long-term success."
Maintaining a competitive cost base can be challenging in the current economic environment. To help with the cost of living crisis Connectus has awarded all staff above inflation pay rises with year-end bonuses. "On the flip side, utilities costs have risen sharply along with third party equipment costs," stated Shelton. "We have been forced to pass some of these increases on to clients but much lower than the current CPI rates, and these are the first price increases since 2019."
Complete vision
On today's primary leadership priorities, Shelton says that having a vision to create something special, which blends people, process and technology into a compelling proposition, is key. He also values the power of mutual trust between teams, customers and partners. "Setting and managing the right expectations with a huge degree of empathy and respect is crucial to building trust," he said.
A former rugby player and boxer, Shelton is motivated by winning and instilling a competitive edge in those around him. "It's all about winning and creating value for our team, customers and partners," he added. "I also try to bring the best out in our team by being honest about what I expect from them and why. And I don't ask anyone to do anything I am not prepared to do myself. Being passionate about what you do is also vital but it's most important to just say 'thank you'."