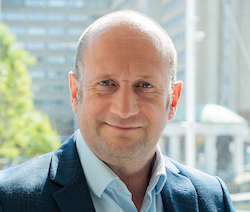 A clear picture of the post-pandemic ICT provider landscape has already emerged and there is no doubt as to the extent of change. Here, we share insights from three CEOs not caught out by lockdown.
With Covid hopefully all but over, there must come a day of reckoning for CEOs on a number of fronts – and for many there is a positive story to tell. Far from emerging hesitantly from a tough two years, our expert panel displays a bullish optimism about their prospects for growth supported by a fresh perspective on what leadership means today.
"As leaders we all need to be more agile in responding to customer and people needs," stated Simon Crawley-Trice (pictured above), CEO, Six Degrees. "Adaptability in this evolving landscape is key, as is a high level of empathy for the challenges our customers and our people are going through. The new type of leader should strive for two-way engagement with their people. Whether that's through videos, coffee catch-ups or any number of other communication methods. The days of leaders communicating solely via emails are long gone. I understand better now how to maintain care and attention around mental health. It's been a real focus for us, and personally I believe I'm a better leader for the lessons I've learned through this. I've also found inspiration in the passion of our people working together through the pandemic."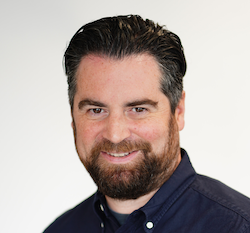 According to Ross Gray (pictured left), CEO, Cloudsoft, leaders today have a number of qualities and motivations that define them. "It's a combination of having integrity, defining your mission and being responsive to changes that drive opportunities or challenges," he commented. "While the need to be agile has always been a requirement of a leader, it's particularly important to have a growth mindset in today's world, adapting to sometimes unprecedented challenges to scale your offerings to reach more people and organisations."
I understand better now how to maintain care and attention around mental health. It's been a real focus for us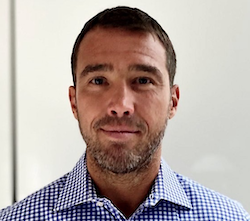 For James Arnold-Roberts (pictured left), CEO, Voiceflex, the pandemic brought many unanswered questions and uncertainty, but there is only one answer – proactivity seasoned by managed risk. "It confirmed my belief that we need to take chances and act otherwise opportunities will pass us by," said Arnold-Roberts. "More importantly, business is all about people. We have a team of skilled, knowledgeable individuals and empowering them delivers results. Covid has tested my values, but at the same time I found inspiration along the way. Technology transformed our world. It opened up possibilities and opportunities that may have otherwise taken years to develop."
Crawley-Trice also noted that lockdown has seen an acceleration in some key technology trends, namely the adoption of public cloud services, the proliferation of agile working and the increasingly hostile cyber security landscape. "Many businesses have learned the hard way that securing their expanding technology estates is more involved than they were prepared for, and that they don't always have a good handle on security end-to-end," he stated.
"During the past two years we've really leaned our strategy and focus into cyber security, the accelerating adoption of public cloud and adopting agile ways of working. This has been in line with the key technology trends that the pandemic has accelerated. Our priority is to drive the shift towards these growth areas through unified communications and collaboration technologies. I see massive opportunities within these areas over the coming years as businesses need to be more agile to meet their customers' needs."
Cloudsoft's main changes over the past two years have all had to do with growth. From 2019-2021 it grew revenue by 83 per cent and increased staff by 43 per cent. "Lockdown emphasised for us that important business services are most resilient when powered by a combination of people and technology," said Gray. "It's about ensuring that knowledge and understanding resides not solely in peoples' heads. If you codify and automate then you can reduce strain and spend more time on innovating."
Covid pushed many of Cloudsoft's clients and partners to consider different approaches to their technology and business. "One type of innovation we're seeing is around the consumption of carbon," added Gray. "The ongoing climate emergency has us thinking about how we can reduce the impact of technology on the environment, and we know the tech sector can do a lot better. AWS's Sustainability pillar for its Well Architected Framework will hopefully encourage developers to make decisions that are more climate friendly. We've also taken steps internally to address this. We've been developing a new software product which will help organisations to more efficiently provision cloud resources and understand their carbon impact."
Arnold-Roberts' current priorities include building the business for the world after Covid with new tools and structures that meet the changing needs of its client base. He is also focused on the 2025 switch off, aiming to build market exposure and gain market share as part of a land grab exercise. "We are also building the development team to deliver voice centric applications that provide automation/API solutions and mobile apps," he added. "Finding and recruiting the correct talent is a challenge."
With a shortage of talent generally in the marketplace, Crawley-Trice is seeing more and more organisations lean into partners like Six Degrees to access expertise to help businesses execute against their transformation plans. "We've seen cyber security as a core competency for several years now, and I believe the pandemic has validated that approach," he commented. "Applying security-by-design in everything we do for ourselves and our customers, and being able to demonstrate this, has been key. Especially as we've seen other organisations claim to be agile and secure until they were truly put to the test."
Analysts are forecasting the UK security market to grow eight per cent CAGR between 2022-25, driven by managed security services and systems integration. The UK cloud market won't be far behind with forecasted growth of seven per cent CAGR during the same period. "We expect to take advantage of organisations set to increase managed services spend as a result of a lack of internal resources," added Crawley-Trice.
Gray also observed that hybrid IT is continuing to grow. "Despite a huge growth in public cloud adoption, it's rare to see a large enterprise fully rely on it – something we've always expected," he said. "What we're seeing now is teams choosing the right tool for the right job to ensure complex enterprises can have all their needs met. This has become so common that Gartner has tied it up in the concept of Digital Platform Conductors. There has been a growing need for digital platform conductors which has led to a number of great opportunities for us.
"Regulation, especially around resilience, is also coming to the fore. Not a week goes by where we don't hear of an outage, whether a significant public one or a smaller scale outage that is no less impactful to customers. With UK FCA regulations coming into effect this year and the EU DORA on the horizon, financial services firms especially must prioritise resilience."