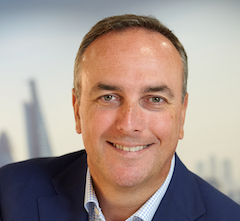 With ESG, CSR and D&I rising up the agenda Ultima CEO Scott Dodds' goal is to be carbon neutral by 2030 and continue developing a people-centric strategy.
Dodds energetically addresses key questions on Ultima's current strategy and future plans around ESG and putting people and communities first. With equal alacrity he shares insights into how he intends to continue nurturing Ultima's all encompassing business model...
Is corporate responsibility now a core business imperative rather than a nice-to-have?
It's easy for us as an industry to pay lip service to ESG issues. For me, it's critical we all set specific measurable targets to reduce our impact on the environment and improve diversity. And we need to hold each other accountable to those targets. CSR is now a business imperative and key to our business. We have just hired a new Head of ESG and have CSR policies and targets for the reduction in our carbon footprint and diversification of our workforce.
Tech companies need to demonstrate that we are taking sustainability and a reduction of our impact on the environment seriously. It's a huge subject and more and more we are seeing customers demanding to know what we're doing. We're looking at how to reduce our carbon footprint and using sustainability calculators to work out the impact of cloud services. Energy efficiencies, renewable energy, circular economies and asset disposal and refurbishment of technology are all key topics we're working on.
How do you go about realising your sustainability targets?
The industry can't keep taking raw materials out of the earth. Digital leaching is also ruining our environment so we need to get better fast. We're looking at our social impact as a company and how we can give back to the local community and charities. In order to reach our sustainability targets we have identified key areas around transport policy, lighting and heating through our ESOS reports which will allow them to be achieved. We are also partnering with Ecologi to plant 15,000 trees by 2030. We're planting a tree for each new starter, each webinar or event registration and every virtual meeting.
In the future, companies won't be on a supplier list unless they can demonstrate their commitment to CSR.
A growing number of workers and ICT buyers are showing loyalty towards organisations with a people first approach and a green agenda. How far have these imperatives become a part of your decision making?
They're key: Our new ESG head is driving our green agenda and we are working hard to demonstrate how we're lessening employee impact on the environment as well as tech's impact. Employee wellbeing is at the forefront of our culture, which drives initiatives such as flexible working, wellness days, generous annual leave, sports clubs, development and training schemes, benefits platforms and more. We have High Impact Teams where employees across the business can have an impact on Ultima's future, setting goals and plans covering topics such as employee experience and environmental, social and governance.
I also believe it's important we support those in our surrounding community, so we give employees volunteering days each year and participate in several fundraising and awareness campaigns, such as sponsored walks and runs, sleep outs, food donations for the local food bank and providing mentoring in the local community as well as working with a dedicated charity partner.
We also have initiatives to encourage employees to make positive choices, such as our Cycle to Work scheme and the provision of reusable items including water bottles and lunchboxes. We run a paperless office and use eco-friendly cleaning products.
How are your talent needs evolving? And what are you doing to attract and motivate the people that you need, and keep them?
We need a more diverse workforce because it gives us diverse thinking and that's powerful. We have a target to recruit more female technologists. We've been gathering data on diversity within the company and have a range of multi-cultural employees from different nationalities and ethnic backgrounds. However, we have a lack of female employees, as does the industry, and need to make sure we are working to change this. The more diverse the workforce the better, as it helps foster and promote innovation which is our life blood.
To do this we're going to work with local schools, colleges and the community to assist people in selecting their future career path and building skill sets. We need to show young people how exciting technology is, not just in the app development world but all the way down to infrastructure development too.
In some areas of an organisation, job roles and skill requirements are changing. How do you see this dynamic playing out in your business?
In the technology world, skill sets are constantly changing – it's the world we have lived in forever – so we are adept at living with the constant need for change. But there has been an acceleration in our thinking around a global services strategy and hiring round the world.
Increasingly, in our business we are looking to support global cloud services which means we are creating global teams with skills that didn't exist 18 months ago, and this change will continue apace. Our acquisition of Just After Midnight has given us access to global skills and we will continue to build our global footprint to provide 24/7 cloud services from both a tech and sales perspective.
What are your biggest organisational challenges right now?
Our biggest challenge is the skills shortage in key tech areas including cloud, automation and new services. Increasing staff movement, due to the diversification in career opportunities as well as the desire for more flexible working and autonomy in roles is also a challenge. We need to make sure that tech remains an exciting place to be. We need to allow people to innovate and grow in their roles. They want more autonomy.
What staff attributes will be most in demand? And do you expect competition for the best talent to intensify as more staff value propositions will be designed to keep them longer-term?
Competition will absolutely intensify. We're looking for people who have passion, integrity, adaptability, flexibility and autonomy and who want to develop and grow. We're looking for global people and if they have the right mindset we will educate and train them in the right skill sets, and help them continually evolve and grow. It's up to us to deliver the right environment for everyone to prosper in their careers.
For example, for younger starters we need to provide social interaction as they learn by watching others as well as provide the flexibility for people to still work at home. So it's going to be a juggling act that companies need to find their way through.
How do you ensure that staff reflect Ultima's core values?
You make sure your leadership live and breathe your values. We also ensure that we reflect the values in all the communication we conduct internally and with customers and suppliers. Our values are discussed at reviews and we have employee awards that everyone votes for around each value. Most of our employees live our values and are helping build a collaborative and inclusive community, because we employ people based on their passion, integrity, flexibility, adaptability and autonomy – all of which reflect our values.
What is your Green World message for business leaders?
We're at the edge of the precipice for the next generation. The time is now to ensure technology helps reduce man's impact on climate and still allows business and personal interests to flourish. Everyone has a part to play and the technology industry has an enormous responsibility as we can help with the reduction of carbon emissions by enabling effective communication globally.