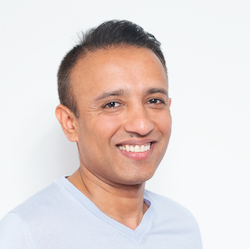 Redsquid's intent to hit circa £50 million revenue and £10 million EBITDA within three years has been strengthened by the acquisitions of Covue and Connect2, a double deal that signals much bigger things to come, says CEO Sohin Raithatha.
Having secured a facility with investor Triple Point, Borehamwood-based Redsquid wasted no time in acquiring two right-fit businesses that bolster its financial position, increase its regional footprint and elevate the group's standing as a single point of contact to facilitate digital transformations. The deals also adds 250 customers, 12 new heads and boosts group revenues to almost £10 million with £2 million EBITDA. "By completing two acquisitions at the same time we have expanded our presence in the Oxfordshire and London areas and entered new sectors," stated Raithatha.
After bulls-eyeing two immediate targets Redsquid is now more able to maximise opportunities in the education sector, and according to Raithatha the timing and synergism of these acquisitions could not be better. "In the immediate term, Redsquid's top priorities revolve around capitalising on the opportunities presented by these transactions," he said. "We are planning for a third acquisition within the next six months that will fill gaps, expedite growth in education and later in the public sector. We are also looking for geographical expansion across the UK."
Balancing priorities
With multiple acquisition efforts underway, prioritising seamless integration becomes crucial, noted Raithatha. And to balance out time spent on competing priorities Redsquid's management team focuses on short and long-term objectives simultaneously. "While pursuing immediate priorities the leadership team works to ensure the long-term growth and sustainability of the business," added Raithatha. "By empowering our team and fostering an engaged workforce Redsquid seeks to strike the right balance between integrating acquisitions and steering the company toward future growth."
Nothing fires me up more than being told something can't be done. I am determined to prove naysayers wrong and am motivated by their scepticism
The short-term challenges Raithatha is facing include managing people and ensuring their engagement and development. Meanwhile, uncertainties around inflation and interest rates, particularly as the economy approaches a potential recession, also creates challenges related to customer confidence. Looking further ahead, Raithatha anticipates challenges linked to financial stability, talent acquisition and maintaining a strong balance sheet. "However, we approach these challenges with resilience and an entrepreneurial mindset, aiming to turn adversity into opportunities for growth," added Raithatha.
"Nothing fires me up more than being told something cannot be done. I am determined to prove naysayers wrong and draw motivation from their scepticism and my belief that positive changes can be made, and that Redsquid has the potential to achieve remarkable success. I am committed to making a lasting impact and create a positive change in the industry."
In this context, Raithatha's current priorities include finance raising and meeting the targets he sets. This means securing the necessary financial resources for ongoing growth and focusing on product development. "Developing the team and enhancing their capabilities with AI are also critical considerations for Redsquid's growth trajectory," added Raithatha. "We're looking for AI that can complement existing services, and AI that can drive operational efficiency."
He is also keeping a close eye on penetration testing and software-based solutions that enhance security. From a voice perspective, Raithatha expects Microsoft integrations to dominate the market. "By maintaining a granular vision and revising our view every quarter I work to ensure that Redsquid stays agile and adaptable to the fast evolving market conditions," he commented.
"Aligning the efforts of the leadership team with our overarching vision and goals is crucial for success. Through leadership, I aim to empower the team, steer their focus and foster a shared commitment towards achieving our objectives."
Raithatha firmly believes that today's primary leadership priorities revolve around fostering an engaged workforce and nurturing an environment of collaboration, along with empowerment and ongoing professional development. "Effective leadership also entails regularly reframing the vision, keeping the team agile and maintaining a laser sharp focus on shared goals," he added.