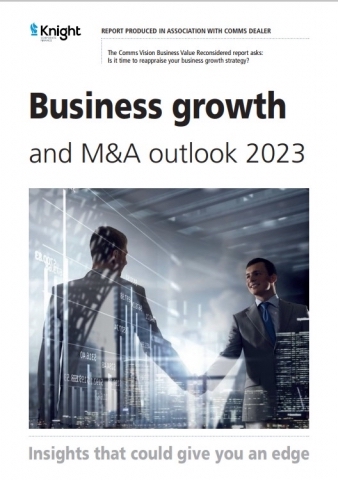 A key priority of business leaders in 2023 is to identify the factors that enhance the value of their organisation – and more than ever, value creation requires a fresh perspective.
That's according to a new channel study (undertaken by Comms Dealer in association with Knight Corporate Finance - called the Business Growth and M&A Outlook 2023 research report) which aims to determine a better understanding of the dynamics that influence business growth planning and identify ways to improve long-term strategy.
The report found that the need to regularly reassess growth strategies has never been so strong – because strategy-as-usual, or having no strategy at all, will not mitigate the evolving challenges and threats facing channel organisations nor take into account impactful change in areas such as sustainability, purpose, technology innovation and industry transformation.
But of the 84 per cent of business leaders who said they are committed to strategic growth, over three quarters of them have no plans to revamp their strategy. "It is critical to have a growth mindset with a willingness to strategically evolve aligned to ongoing change," said report author Stuart Gilroy.
Strategic priorities
The report also points to value-building priorities related to strategic planning, the talent shortage, M&A, non-financial factors, to name a few. "The strong association between strategy and growth suggests it's time for business leaders to break the cycle and take a harder look at the fit between their current planning, the evolving marketplace and long-term goals," commented Gilroy. "For example, over 30 per cent of respondents do not have an exit strategy.
"Furthermore, as business leaders in the comms sector are likely to be juggling more competing priorities this year, those with differentiating capabilities, an updated and aligned growth strategy, and who embrace change, nurture non-financial levers, harness shifts in the market and think differently, are likely to be among the winners and secure their future."
Key statistics...
• Of the 84 per cent of business leaders committed to strategic growth, 69 per cent have no plans to revisit their strategy.
• Over 40 per cent of respondents have cemented a deals strategy, while almost 30 per cent are considering M&A to augment their growth strategy.
• 80 per cent of respondents think they have a good idea of what their business is worth. But over 20 per cent do not know the benchmark value of their primary asset.
• Nearly 31 per cent of respondents do not have an exit strategy
• Seventy six per cent say a mixture of financial and non-financial metrics is the main driver of future business value creation.
• If the cost of acquiring per customer organically was equal to by acquisition, over 70 per cent prefer the organic route.
The full report can be downloaded at – https://www.comms-dealer.com/insights/business-growth-and-ma-outlook-2023