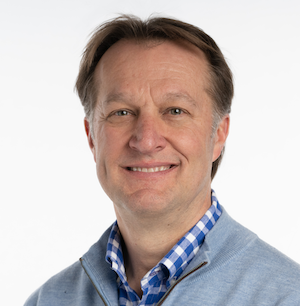 When Stephen Hackley became Sky Business MD last June he grasped an opportunity to continue leading with purpose and overcome a challenge of the first order – to transform the comms channel model.
Five years after entering the UK comms channel as Sky Connect and with a rebrand to Sky Business under its belt Hackley is set to build on the company's growth and experience with a wide ranging strategic revamp – and he is moving forward with the right pace and priority to maximise opportunities for partners while delivering broader industry change.  "We have a drive to reinvent what we do and make no apologies for our ambition to change the channel permanently, at a level that only a business of our scale can and in a way that will leave partners wondering why things weren't done like this before," he stated. "We're investing in building a wholesale business based on our learnings, laying the foundations for the next stage of growth."
But creating a new channel force with scope to impact the market like never before means turning up the volume on Sky Business's ambition and intent if it is to make its influence more strongly felt. "Only 30 per cent of businesses are aware that Sky offers business solutions," added Hackley. "So we're going to be more front footed when it comes to educating the marketplace. My remit is very much about accelerating growth, driving scale, expanding our distribution and half of our business will be through channel partners."
We make no apologies for our ambitions to change the channel permanently, at a level that only a business of our scale can, and in a way that will leave our partners wondering why things weren't done like this before
The point Hackley makes is that Sky Business's channel experience to date has become a catalyst of innovation and transformation, bringing a sharper focus on the key issues that matter most. "In 2018 when Sky first entered the channel it's fair to say that we were relative novices in how to serve businesses indirectly," added Hackley. "But over the last few years we've learned what works for our partners and listened and adapted to what the channel is crying out for. To that end we are looking to develop a full suite of layer 2 and 3 connectivity services to support our existing and new channel partners."
Hackley also underscored another set of imperatives facing Sky Business: "We have a big task ahead to bring the right products and services to market," he added. "In time this will enable our partners to make the most of the opportunities they're facing."
The upshot is a strategy to reinvent and a key part of this is to either build, buy or partner a way through the solution sets that customers demand. "There are some fabulous solutions and providers out there that I would partner with rather than starting from scratch," noted Hackley. "Economically that's wise and it's important to acknowledge and recognise where excellence already resides."
From the outset Sky Business has also been selective about engaging with the right partners, believing that to unlock growth in the channel it would be foolish not to work with existing customers to drive the evolution and create a wholesale division that operates as an extension of partner organisations. "We aspire to be a reflection of the channel," explained Hackley. "It's about offering a broad choice model where every channel has a role to play."
High potential
He recognises the potential of this model based on an omnichannel approach, and made a decision to segment the marketplace to cater for small, medium and large businesses. "We are organised around how customers buy and it's about respecting the fact that customers want to have different relationships with their providers, whether indirect, direct or through VARs," added Hackley. "The customer decides what is best for them and we'll meet customers where they want to be. We don't play each channel against each other. Ultimately, we believe in a proposition that can cut across all routes to market."
My remit is very much about accelerating growth, driving scale, expanding our distribution and half of our business will be through channel partners
Introducing new products and driving growth is comfortably familiar to Hackley. He has first hand experience of the transition from cable TV to Internet, to new TV functions such as high definition and video on demand to streaming. "These life cycles of adding products, growing, adding and repeating is something that I've done and have some scars to show for it," he said. "Although I'm new to the UK market I've had years of experience in driving growth in the B2B television and communications markets, so I'm aware of what needs to be done. I've got good instincts in the space and leaned on the support of a great leadership team at Sky."
Strong pedigree
Prior to joining Sky Business Hackley was based in the States working for Comcast for over 22 years in a variety of high level leadership roles in the B2B and residential sectors. He was responsible for growth and distribution strategies and led on various strategic growth programmes. Sky became part of the Comcast family in October 2018.
Hackley will leverage all of his experience to address two broad megatrends reshaping the UK comms sector, alongside other emerging imperatives in the wider business environment. "The industry itself is going through two important macro level changes – the copper shutdown and last mile fibre-based services roll out," he explained. "Those two transformations need to be navigated and resellers are traditionally good at helping businesses undergo change. At the same time we are seeing customers taking steps to future-proof their networks and show an interest in digitally enabled service personalisation.
"In terms of raw technologies we're also seeing a trend towards the streamlining of suppliers, cumbersome assets and legacy technology. And we see a comms channel that's keeping pace with the velocity of change demanded by UK businesses and the economic environment. What's surprising, and perhaps shouldn't be, is the number of examples we see of the channel leading the way forward with business solutions in-a-box that keep things powerfully simple for clients."
The growing emphasis on making life easy for customers to focus on their core interests represents an acceleration of the need for resellers to modularise their offer, believes Hackley, because the end user can seamlessly progress from one solution set to another as they grow. "Resellers have to build for add-on growth, have an eye towards future-proofing and create technology roadmaps that don't have dead ends," he stated. "That's what develops referenceable clients."
Just a minute with Stephen Hackley...
What talent do you wish you had?
To type faster. I'm one of those people that types with two fingers and the occasional thumb.
If you weren't in ICT what would you be doing?
I would love to teach, and I see myself doing that when I hang up my telecoms hat. My goal is to teach in an American school within an inner city turnaround neighbourhood.
 
Something you have overcome:
Early in my career I was often the youngest person in the room or on the board. I'm well past that now but I recognise that people look at you and have biases whether it's age, race or background. I'm much more aware of those inequities than when I was just charging through my career.  
Industry wish:
To be further along in the evolution of networks.
Biggest career achievement:
Helping to foster cultures of integrity and respect, connecting people to the moments and experiences that matter the most. Happy, satisfied colleagues help deliver outstanding service and I'm proud of those achievements in my career.
How do you relax when not working?
By being outdoors, whether watching sport, playing sport, being in nature or travelling with my wife. The good thing about coming from America is the long list of things that I need to see and do here in the UK, and a lot of it is outdoors.
How would you like to be remembered?
I always aim to bring my best self to work and there is no difference between me at work or how I am in my personal life. So I would like to be remembered as a well grounded actual person, not just the MD or CEO.