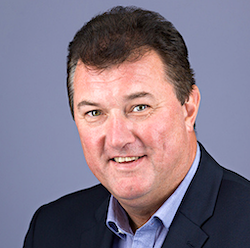 The  onslaught of a rampant global pandemic has forced many organisations to shift their focus and priorities, but for AVC One it's full steam ahead with Managing Director Russell Parker's strategy already on point and paying big dividends.
Letchworth Garden City-based cloud MSP is part of the AVC Group which has a rich pedigree in technology, infrastructure and services. Launched in 2013 following the acquisition of the Broadsoft platform, AVC One was moving along nicely but the executive team had bigger ambitions and wasted no time in bringing Parker on board to build more value into the business. "I was appointed in late 2018 and my mission has been to focus on people," he said. "A business can't succeed without great staff, fine tuning our proposition and of course growth."
Parker, who holds a UEFA licence as a football coach, first ran onto the comms sector pitch when a football manager suggested that he should study fibre optics. "So I did," he stated. "I graduated with a Business Computer Science Engineering Honours Degree and a Postgraduate in Marketing degree. Having gained experience in a number of technology companies by the age of 32 I was appointed Managing Director of LANart Corp which was acquired by CSI on the NASDAQ. We were backed by Charles River Ventures and Bessemer from Boston."
Parker was Managing Director for five years before the exit and carried the title Vice President EMEA too. He has also worked at a senior executive level with Cayman Systems, Sylantro, AlwaysOn, Exponential-e and Claranet before joining AVC One. In 2019 AVC One grew turnover to £2.5 million and the following year doubled revenues to £5 million with a forecast to add £2 million this year. "I am a big believer in doing more of what you do well," commented Parker. "So our focus is on our strengths in voice, cloud and application centric infrastructure – allowing businesses to operate seamlessly across their infrastructure – whether on premise, in the public cloud, wherever they are."
AVC One's customers include Kwik Fit, Coca Cola and Aston Martin; and its tech space partners include Cisco, Broadsoft and Microsoft. Voice is at the heart of AVC One's offer having acquired the Broadsoft platform, so the copper switch off is a primary driver for growth. "Other key areas for us are creating great customer experiences – in Internet retail and call centres for example – and support for the increasing use of smartphones to access files, data and social media," added Parker.
"As people are unlikely to return to their pre-pandemic working habits anytime soon, cloud will continue on its exponential growth curve. Security will always be an integral part of this mix as the threat landscape evolves and becomes ever more complex. And last but not least, application centric infrastructure will continue to be an important pillar of our business."
The main strand of AVC One's growth has been organic through voice and digital including infrastructure. This has made up 100 per cent of the firm's growth over the last few years, but the acquisition of Tunbridge Wells-based SME comms and IT solutions provider Invicta Telephone Sales (ITS) early last month could signal more transactions that add value to the business, noted Parker. ITS operates across a range of sectors including transportation, architecture and education, predominantly in the south and south east of England. "We will look at strategic acquisitions, and as every business does, we'll hope there's a little sprinkling of luck along the way," said Parker.
"It's about adding the value around voice, digital transformation and experience. We will do this by continuing to develop our core strengths, our people and technical skills, as well as our processes in these areas. It's vital that we continue to look after and nurture our customer relationships. We are in it for the long haul. We don't look for quick wins and churn. That's not our style."
Realising long-term goals of course means being in charge of your own destiny, but Parker believes self-determination to be an ever growing challenge for the channel. "There is a tendency for vendors to favour a referral model which takes away the power from the channel," he said.
"The annuity and PAYG models, coupled with the complexity of solutions and increased support staff costs etc, doesn't give any financial safety net and squeezes margins hard. My advice for resellers therefore is to constantly look towards adding value in the longer run, not the quick wins. And make sure you always work with people that are creative and innovative."