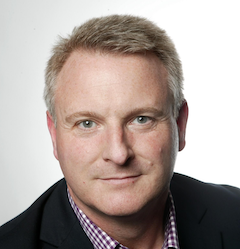 The extent of the digital transformation at hand is also reflected by the scale of the opportunity for innovation and growth, according to Mitel Vice President for Northern Europe Richard Roberts.
There is every sign of an unprecedented upsurge in the adoption of new technologies, new business models and ever closer, more strategic vendor-partner relationships, believes Roberts, who hails innovation as a foundation stone and route to growth at this pivotal time. "We're living in an age of technological advancement that's quite unlike anything that's come before," stated Roberts. "Technologies like AI, IoT, 5G and Wi-Fi 6 are breaking new ground and disrupting the communications landscape. We've got an opportunity to use these technologies and weave them into our solutions so that we can drive innovation and collaboration on a mass scale. We're seeing white hot competition and brilliant innovation leading to impactful solutions.
"We're also seeing rapid growth in the market – not just more users, but savvier users too, particularly when it comes to solutions like communication and collaboration tools. When the pandemic hit it threw all kinds of challenges at customers. Now, everyone wants to know what comes next. As a society we're not going back to the way things were. Many of our customers are working with us precisely because they see their future best served by a hybrid way of working, with employees able to continue working remotely for at least part of the time."
At the start of the pandemic remote working was a novelty for many people and organisations, but already it's business as usual. "Now, end users know what they like, and what they don't," added Roberts. "That links to perhaps the biggest concern – one the whole industry should consider: How can you create more compelling, meaningful connections with your colleagues, partners and customers? Creating exceptional customer experiences has never been more important."
Partners must have a resilient business, be capable of switching from the physical to the virtual in a heartbeat and credible in the creation of customer-specific solutions
Roberts has taken a particular interest in how Mitel partners are developing their own software capabilities to service end customers, which he says is a testament to their flexibility in the face of change. "We are seeing our partners acquire the capabilities to reach ever deeper into their customers' businesses, and in doing so derive much greater value while building long-term, strategic partnerships with them," he commented. "This may be borne out by the custom development of AI bots to facilitate better customer interactions within CX, tighter vertical application integrations into communication workflows and decision making processes, or the development of data mining and insight tools to allow customers to continually improve the quality and/or profitability of their precious customer interactions."
To meet the needs of today's customers resellers would be doing themselves a big favour by providing service diversity via a choice of partners and integrated, differentiated propositions that deliver a competitive advantage, advocates Roberts. "Mitel has always appreciated the role our partners play in delivering these critical elements," he stated. "The great thing about having a capable partner network is that they are always challenging themselves to stay relevant and deliver real business value."
This is especially important when you consider the industry shift towards open consumption models, as customers increasingly appreciate the benefits associated with more flexible, opex-based as-a-service models, observed Roberts. "We are already seeing the swing to cloud delivery, where our partners mediate between multiple service offerings to create tailored outcomes for their customers," he added. "We've also moved towards a 'whole customer' approach to solution sales. That means making sure we're embracing the technology, culture and processes of our customers to fully understand them and their end users.
"The pace of change we're living through can make some companies feel uneasy, but there's no denying the world we're living in. From our perspective, there are lots of positives – like the rapid acceleration of technological advancements brought on by the necessities of recent events. And consider AI or augmented reality (AR), we are well beyond the point where these could be considered something of a gimmick. We're seeing real world practical implementations."
Roberts' observations show that customer insight has never been more important, leading to a focus on data analytics, process innovation and AI-inspired solutions to deliver quality innovation at scale. One example is the development of AI chatbots. Mitel's Google AI-powered Virtual Agent can integrate with existing customer experience platforms and handle basic tasks alone, allowing human agents to focus on more complex requests.
 
"The pace of innovation is increasing as the expectations of our customers continue to build," stated Roberts. "In an ever more mobile world the key to success lies in the delivery of communication and collaboration experiences customised to the role of the individual, to provide a seamless experience irrespective of location, medium or application. The choice of the most appropriate business and consumption model lies with the customer and there should be no impact upon experience, innovation or integration capabilities."
We are seeing our partners acquire the capabilities to reach ever deeper into their customers' businesses
 
The need for partners to make the right strategic vendor choices to underpin insight-driven, differentiated and critical solutions such as DR is also growing in significance, noted Roberts. "The importance of true business continuity as a fundamental offering has been highlighted very clearly, but so has the need for greater customer knowledge in terms of key processes, roles and systems," he added.
"Flexibility is also critical: Partners must have a resilient business themselves, be capable of switching from the physical to the virtual in a heartbeat and be credible in the creation of customer-specific solutions. Off-the-shelf may be attractive to some, but for those customers seeking competitive advantage, more than this is required.
"Understanding who our customers are and what they need, then delivering on that, is the key to success. Our partners must have the same high level of understanding when it comes to technology. We must continue to help them stay ahead of the curve and understand how emerging technologies can fit within their own business.
"We can't stand still, and neither can our partners. So we've taken practical steps to help them, like boosting the available resources. For example, we've increased the number of partner-aligned field sale resources by over 60 per cent, provided dedicated sales engineers to our partners, and offered specific sales support that works alongside our Partner Interaction Centre."
If Roberts could transform any area of the comms sector it would be to accelerate initiatives across the industry to drive diversity, from pre-employment through to late-career. "While notable progress has been made in some areas we would be better placed as an industry to respond to the changing needs of our customers if we more closely represented the diversity we serve," he added.
 
"I'd also increase the focus on the human element within IT. Human factors like the emotional, psychological and cultural impacts of technology are so important to our wellbeing and productivity. As we've all witnessed over the past 12 months, the effectiveness and value of technology often comes down to how well we can integrate it into our lives. This is becoming a higher priority for the industry, but there's still plenty of work to do."