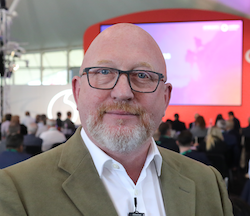 The launch of Onecom Partners promises to turn traditional channel models on their head with fresh thinking and innovation underpinning an ecosystem of interconnected partnerships.
Onecom's intention to become a major force in the channel crystallised last month with the official launch of Onecom Partners, the next iteration of 9 Group which Onecom acquired in March 2021. The deal came just weeks after Onecom pocketed close rival Olive Communications, its fourth transaction since mid-market private equity firm LDC backed the business in July 2019. Former Olive CEO Martin Flick (pictured left) then became Onecom Group chief exec' and during the Onecom Partners launch event (staged at the Vodafone Pavilion, Newbury 8th September) he gave the megaphone to his strategic priority for Onecom Partners to become the leading channel services provider.
"The 9 Group acquisition was a strategic decision to expand our go-to-market strategy beyond a direct customer play," stated Flick. "We see a huge market opportunity. Onecom is directly active in the mid-market touching into enterprise, but there is a vast SME market that we can't reach on our own. So we bought a best of breed partner channel and are enabling it to sell an expanded product portfolio, leveraging the expertise of strategic suppliers like Vodafone. Our investment in our partner business is a measure of long-term commitment to the channel. We want to change how the comms sector operates and need to dare to do things differently."
Big ambitions
In June 2019 Onecom signed a record partner deal with Vodafone and set out plans to become a comms channel powerhouse. "Onecom has worked with Vodafone for 20 years at a strategic level," added Flick. "Vodafone is our most strategic supplier and we have products and services that we want to enable partners to sell as part of a new go-to-market strategy centred around 'partnering for success'."
Flick also shared his strategic aim for Onecom Partners to become synonymous with a strong ecosystem of business relationships with the dual purpose of better serving customers and meeting the business growth requirements of partners. "We are invested in the ethos of thinking differently," added Flick. "We aim to build a channel ecosystem that co-exists based on growth and relationships. Yes we have an appetite to acquire certain partners but we will also act as an introducer and facilitator for partners wanting to exit and those wanting to expand and scale up. We're looking to work with partners and help them scale organically and inorganically, as well as support those that want to do more of the same."
Flick set up his first comms company aged 32 and grew it from a standing start to £6 million revenue in five years. The business was acquired by Azzurri Communications, where Flick spent a number of years before buying into Olive Communications ten years ago. Within three years of his arrival the company grew threefold from £10 million to £30 million. "I've been a channel partner for 25 years, seen great change in the industry, seen what's good about working with large organisations in partnership, and I've seen what doesn't work," stated Flick. "I've had a wish list as long as my arm that I'd like to have seen in all those years. Part of our ambition at Onecom Partners is to bring that wish list to life for the benefit of our partner channel."
Changing times
Flick's mission to deliver positive change for partners in the most effective and innovative way is timely as resellers face the challenge of securing growth in turbulent times. "We are facing into political and economic uncertainty globally and we're seeing a massive technology shift," he explained. "OTT providers are coming forward and software companies are eating the lunch of traditional vendors. We have the ISDN switch off, a big move in the flexible working space, and there are products and services coming along that will revolutionise the way we all operate and what we can sell.
"The channel has a huge responsibility to UK plc to help them navigate this minefield of immense change. Customers want expert advice and guidance and we need to sell products and solutions that are in close proximity to customer need. That's where a channel play comes in. There is no better way and it's a big opportunity."
Our investment in Onecom Partners is a measure of our channel commitment. We want to change how the comms sector operates and dare to do things differently
A key approach is to look at the addressable market that exists in customer bases, noted Flick. "If there is a need for products not in a partner's portfolio we can help them penetrate those products to get more wallet share from existing customers," he added. "Cross sell should become the most important part of any sales strategy."
Onecom began its commercial life 20 years ago and built a solid reputation for being highly acquisitive and mobile-first. Today, at least 50 per cent of revenue is non-mobile and as noted earlier in this article Onecom's most strategic supplier is Vodafone. "Onecom is one of Vodafone's longest standing and biggest partners, a genuine partnership that has embraced shared risk and shared reward," commented Richard Horner, Head of Partner Services, Vodafone Business.
"We are helping partners disrupt in the market, find opportunities for change, and helping partners to deliver that disruption in a business as usual way. Vodafone's number one asset is the fixed and mobile network, but behind that are operational, marketing and technical teams. We are focused on making sure our partners have access to and can leverage these assets."
At the coal face
After a long spell working in the abstracted world of corporate procurement functions Horner is relishing the opportunity to interface with partners and witness for himself business transformation on the ground. "The customers that the partner community can reach, and the scale and breadth of what this community can do together, is huge," he enthused. "They're helping customers stay in business, helping schools keep running during Covid, and helping to find new solutions like 5G. I have admiration for the entrepreneurship, the problem solving, the can-do attitude I see from every partner and distributor I've worked with – that's typified by Onecom."
According to Ker Anderson, Head of Radio and Performance, Vodafone, the network operator's strategy is more about moving from a connectivity provider to becoming a technology company, shifting to a model where the network functions as a platform that facilitates capabilities. For this to happen the platform must be accessible to everyone, which means taking it to the next generation of standardisation, incorporating APIs, building in automation and greater visibility, and making the operational activity close to zero touch, all while moving as much to the edge as possible.
5G potential
Anderson also noted that Vodafone is launching 5G standalone next year. Trials currently under way at Coventry University are exploring immersive and augmented virtual reality applications. "In the next couple of years we'll start to see what 5G is capable of delivering," commented Anderson.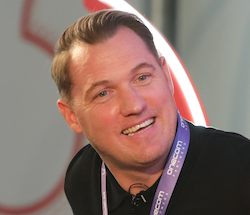 Critical to the success of Onecom's strategy is the removal of channel conflict, noted Onecom Partners Managing Director Adam Cathcart (pictured left), who cited just three occasions in the past 18 months and each time the direct arm stood down and recommended the partner. "All three partners walked away with the deal," stated Cathcart. "We will continue this way. The channel has to win."
 
Onecom Partners is entirely separate from the Onecom Group, with its own billing, CRM, provisioning and finance systems, with no cross over of data between the organisations. "There is a metaphorical wall and we run as an independent partner business," added Cathcart. "Yes we have a large profitable direct business, which we see as being advantageous to our partner community. On bids where a partner may lack the required skills Onecom's direct team could support in many ways including joint bids, or fronted by the partner or Onecom. If there is anything we can do to keep the competition at bay by providing those additional products we're here to support partners."
True aggregator
Onecom Partners is now a fully fledged aggregator of services providing access to best of breed suppliers, offering the 'complete stack' and options within that stack – quite different from 9's heritage. "At 9 we had our own IP product internally, offering SIP, hosted and connectivity," said Cathcart. "That was generally our main game. Now we've redeveloped our proposition to be a true aggregator of services. When a partner comes into our organisation we provide choice across various tier one carriers and networks – providing access to two or three leading tier one and two carriers and best of breed products. Partners can pick and choose on a case by case basis across mobility, connectivity and voice. Onecom's relationship with Vodafone has helped us to develop this proposition. Vodafone connectivity now makes up 90 per cent of our broadband orders."
 
The rebrand of 9 Group to Onecom Partners marks a stepping up of its commitment to accelerate channel growth, build a mutually beneficial partner ecosystem, add new products and services for resellers and leverage the extraordinary relationship with Vodafone. "For the rebrand, we wanted to make sure the partner business felt part of the group and associated with that scale," added Cathcart. "Strengthened by the extent of Onecom Group with access to commercially aggressive propositions, our partners are empowered to grow their revenues and increase margins."