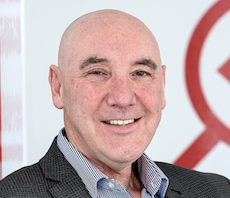 Few, if any, would contest the viability of Commsworld CEO Ricky Nicol's ambition to build the equivalent of a Scottish Telecom, and the signs are that he could achieve his objective sooner rather than later.
Nicol's life and career journey shows clearly that the road to success may not be smooth, and that in business, strength of character counts as much as an entrepreneurial spirit, while morale boosters might be needed along the way. As you'd expect from someone who beat cancer, Nicol experienced moments of doubt, but banished them. He dwelt not on thoughts of exiting, but followed a course of leadership in part spurred by the inspiration of a role model. "I often felt like giving up, but Chris Van Der Kuyl, the co-founder of Minecraft and Scotland's top entrepreneur, would inspire me to keep going," stated Nicol. "I give this advice to anyone, not just in business: Life is not a rehearsal. When you look back, you're more likely to regret the things you did not do than what you did do. So be decisive. The time is now, go for it!"
Acting on his own advice Nicol spent almost two years weighing up his options to grow the business and decided that PE would be key to realising his growth ambitions. Wasting no time, Nicol secured an investment with mid-market PE firm LDC that puts the comms provider on track for UK expansion and another year of double digit growth. "LDC's investment is a sign of our intent to invest further in our capacity to disrupt the market," stated Nicol.
"Our expansion plans are to keep doing more of what we have done. We've built our own carrier grade network with UK and international reach, delivering highly complex and critical digital infrastructures, including UC, to some of the largest and most high profile organisations across the UK. We've done this without fail, on budget, in time, and in the words of each customer, better than the incumbent."
Commsworld began its commercial life in 1994, co-founded by Nicol and his close friend David McKenzie. Today, the company has 110 staff based across offices in Edinburgh, Glasgow, London and Aberdeen. For the financial year to December 2018 Commsworld recorded revenues of £20 million, a 41 per cent increase on the previous 12 months. For Commsworld's 2019 financial year Nicol forecasts £25 million revenues and expects circa £3 million operating profit.
LDC's investment is a sign of our intent to invest further in our capacity to disrupt the market
The role of acquisitions in Commsworld's strategy has been significant, and Nicol ranks the firm's purchase of Scotia Telecom in 2000 as a milestone for the business. In another strategic move Nicol then bought out McKenzie and evolved Commsworld into an ISP network centric business. The 2008 financial crisis almost put the brakes on, but Nicol nevertheless pressed the accelerator and in 2012 acquired Fluency Communications which enabled him to build from scratch a Next Generation Network, which between 2013 and 2019 was funded in-house.
Nicol positions Commsworld is an innovator and disrupter, and as being sharply focused on core business. "We're 'fibre freaks', delivering full-blown FTTP services by utilising dark fibre in its purest form," he said. "We're agnostic when it comes to fibre and network providers, partnering with numerous operators including Openreach, CityFibre and Zayo. We also partner with Cisco, Microsoft, Juniper and Mitel."
Commsworld built its first PoP in Edinburgh in March 2013, now there's around 100 across the UK, a proliferation that speaks volumes about the times. "The market accepts that copper-based technologies have reached end of life," added Nicol. "The rapid growth in data consumption and a reliance on cloud and hosted services is bringing an acceleration of new opportunities for our business, particularly – but not exclusively – in the public sector."
The market accepts that copper-based tech has reached end of life
Commsworld bid for and secured three of the largest public sector WAN and IPT contracts in the UK, with Scottish Borders Council, Edinburgh Council and Glasgow Council. This resulted in developing more than 1,000 sites and over 30,000 IP end points, along with large contact centres. The entirety is hosted and delivered from Commsworld-owned and managed cloud infrastructure. "We have many long-term multi-year contracts across public and private sector clients, including a FTSE 100 customer in England," commented Nicol. "We have around 3,000 sites across our base."
Nicol also positions Commsworld as being enthusiastic in its approach. "We're fibre freaks, delivering full-blown FFTP services by utilising dark fibre in its purest form," said Nicol. "We're rapidly moving towards a subscription-based cloud-fulfilled world and the days of the traditional VAR are numbered. Products and services will become more self-serve."
Against this backdrop of business transformation, says Nicol, the exponential growth of IP cloud-based solutions and the appetite for 5G and IoT is creating a 'stampede'. What's more, an age of 'openness' has flung open the flood gates. "An 'IBM' scenario has hit the market," emphasised Nicol. "Once, everything had to be IBM compatible. But when IBM lost its assets the world changed and became more open and accessible. For IBM and the largest telecoms providers their owned network assets have been superseded by the Internet and more open technologies. We can now genuinely compete on a level playing field, which is important at an enterprise level."
Just a minute with Ricky Nicol...
How did you get into comms?
I joined GEC Reliance straight from school in 1978 and I've worked within the telecoms sector ever since
What talent do you wish you had?
To play the guitar
Tell us something about yourself we don't know:
When I co-founded Commsworld I looked like one of the Chuckle Brothers, today I look like Harry Hill
One example of something you've overcome:
Cancer
Your greatest strength, and what could you work on?
My strong point is social skills. My greatest weaknesses is lacking attention to detail, and I can be gut-driven
What do you fear most?
Heights
How would you like to be remembered?
As the oldest living person in telecoms
The biggest risk you have taken?
I came back from a year out following cancer treatment. I decided to roll the dice and go for my goal rather than take the easy way out, lift some money off the table to add to my life insurance pay out, and sulk
In hindsight:
I would have been more ambitious much earlier and actively looked for growth opportunities, as opposed to plodding along and not lifting my head up
Who do you admire most in the channel?
Former Gamma CEO Bob Falconer
Biggest career achievement?
Building a brilliant business with brilliant people, and making a difference to peoples' lives