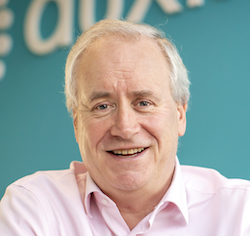 Against the backdrop of rapid macroeconomic meltdowns the most successful business leaders will throw caution to the wind and turn volatility to their advantage, according to Auxilion CEO Philip Maguire.
Maguire continues to show high optimism despite the uncertain economy. In fact, 'never waste a good recession' has always been his personal mantra. "I've used recessions consistently to evolve the business, pivot, leverage innovation and make significant changes," he stated. "Recessions have catalysed major milestones in our development, particularly the 2008 crash which sparked the inception of Auxilion."
Harnessing economic instability to your advantage means ramping up the possibilities of having an entrepreneurial spirit, which in Maguire's early career was not immediately obvious. He left college in the mid-80s and qualified as an electrical electronic engineer, first working for a valve manufacturer focusing on process control and automation using machine coding. He developed a deep knowledge around processes, workflows, machinery and plant automation, but to achieve a more rounded skill set Maguire completed an MBA which gave him the financial, marketing and leadership experience to become a managing director at 28. "I spent three years working for Elequip Process systems in the UK and came back to Ireland in 1995," stated Maguire. "During those three years I concluded that I was an entrepreneur and wanted to be my own boss."
Working as a self-employed contractor with digital equipment Maguire developed an understanding of the IT sector and in 1997 set up IT Alliance to run and manage DECexecutive on behalf of Digital Ireland on a full outsource basis. "I experienced numerous recessions with IT Alliance, the first being at the end of 2001 with the dot-com crash," recalled Maguire. "I decided to really invest in a white label model and after the financial crashes of 2008 set up a SMB offering using our enterprise capability around managed services. That was the original concept for Auxilion which launched in 2012."
The new company developed software that ran and managed remote pods and working environments for small clients using a multi-tenanted approach. "During this period we also established our Sheffield office which leveraged the capabilities of our health services management team," added Maguire. "This team grew into our Managed Services Centre of Excellence."
Auxilion also has offices in Dublin, Belfast and Warrington, employs 500 people and plans to increase its UK workforce by 60 over the next two years. Also, Auxilion is looking to acquire a mid-tier IT service provider as part of a £15 million expansion into the UK. "The UK market is ten times larger than in Ireland, so the potential for us is huge," stated Maguire. "We're looking for a partner that can support our existing cyber security or modern workplace offering. Hybrid cloud, modern workplace and managed services strategies continue to dominate.
We've taken risks and used recessions to our advantage, but partnerships have kept us informed of customer expectations, helped us co-create and evolve our portfolio, diversify and grow
"We see increased interest in automation, process optimisation and governance as being central to the successful implementation of these strategies. Process automation is a major focus as partners seek ways to increase efficiencies and facilitate growth particularly in the context of recessionary pressures. Many organisations will be trying to do more with less, and some digital transformation projects are failing due to poor governance, costing organisations millions every year."
Part of Auxilion's multi-million investment will go towards creating an innovation hub at the Services Centre of Excellence in Sheffield, expanding its floor space by 60 per cent and growing its team. In other expansion news, early last year Auxilion announced it was on course to grow revenues by 25 per cent by the end of 2022, compared to 2021, taking revenues beyond £40 million. "We're anticipating more significant growth this year," confirmed Maguire.
Although Auxilion began with a white-label partnership model it became clear to Maguire that there was great merit in broadening out into a direct play. "Our focus on leveraging enterprise capabilities and cloud experience with Azure on the SMB sector preceded a move back to our strengths in the corporate and enterprise space," he explained. "As with anything, time is often key. We had some large scale contracts with the NHS finishing up in the north of England. We had a fantastic team there and I decided to redeploy them into the Sheffield office and build out our Service Operation Centre. This location has gone from strength to strength and we're currently doubling our capacity there."
Auxilion started to build a direct customer base following a big managed services partnership with Mainstream Renewable Power, which is still a customer a decade later. "It began to snowball from there," added Maguire. "We secured a series of big wins with large clients which drove major growth and moved our focus to go after more scale partners which was a successful pivot."
The UK market is ten times larger than in Ireland, so the potential for us is huge
Auxilion's key technology partners are Microsoft, HPE and Service Now, which underpin a long-term growth strategy. "We have a programme for continuous improvement focused on the future of managed services, looking to introduce more automation while leveraging the tools and technologies that we have at our disposal," explained Maguire.
"It's a process of continuous improvement – evolution not revolution. We're not simply a project supplier and we won't 'transform' a business – we'll grow it together over time and at the right pace. We help customers govern and control the journey, and we implement and support before, during and after. You have to understand the value proposition and measure the value that has been delivered. That's the key for us – it's how we operate and how we partner."
That's why Maguire attributes the mainstay of Auxilion's growth to long-term partnerships, which he says is in the firm's DNA. "When you operate an indirect white-label business, success comes from an ability to partner and have honest and meaningful relationships," he commented.
"This experience has helped us to maintain decades-long strategic partnerships. I'm still working with partners and customers who've been with us since I launched the company 25 years ago. We've taken risks and leveraged recessions to our advantage – but partnerships have kept us aligned to customer expectations, helped us to co-create, evolve our portfolio, diversify and grow."
Lesson learnt...
A huge early lesson was the importance of detailed monthly accounting. I nearly lost everything in 2001 because I was doing quarterly reviews and accounts. I'd overstretched the business – you can see that happening now with some major companies – and did not react quickly enough to the dot-com crash. A monthly rather than quarterly focus allows you to make corrections and adjustments quickly. I also learned that, in a recession, the best approach is to cut hard, cut once and cut from the top. Be clear on your strategy and communicate clearly. It's a difficult process but sometimes unavoidable.