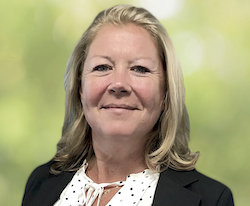 Neos Networks has enjoyed extraordinary growth since its rebrand and strategic rebirth last year – expanding its aggregation network, making big strides in underpinning Three UK's 5G strategy, and charging ahead with high capacity mission critical connectivity.
To merit the status Managing Director for Wholesale and Smart Infrastructure Sarah Mills is advancing projects and campaigns on a number of fronts – and it's time to take note.
SSE Enterprise Telecoms rebranded to Neos Networks in March last year as part of the company's wider business transformation journey, which began in 2019 when Infracapital acquired 50 per cent of the business with SSE Group retaining the other half. "Rebranding in the midst of a pandemic was not the plan, but it was a success and a pivotal turning point for the company," said Mills. "It allowed us to step out from the shadows of our parent organisation, SSE, and enabled us to position ourselves as a B2B connectivity provider doing what we do best – providing leading edge business connectivity. It's our mission to make sure that when it comes to high capacity UK connectivity, Neos Networks is the first company on peoples' minds."
From full fibre to IoT and smart cities, from layer two connectivity services to advocating collaboration among service providers for the greater good, Mills has emerged as an industry beacon. And her quest for Neos Networks to achieve industry acclaim is a bellwether for the high levels of proactivity required by today's market. Not surprisingly, brand reinvention and invigoration is reflected in Neos Networks' activities on the ground, investing heavily in, and extending its network to 550 exchanges now on-net, representing a doubling of numbers. "We've also grown our customer facing and operations teams," added Mills. "We've added approximately 150 new employees since Covid-19 began. When the pandemic was at its worst we maintained a business-as-usual approach, delivered our largest customer project on time and ensured none of our employees were furloughed."
Lockdown has shown that disruption can challenge old ways of doing things, therefore according to Mills 'investment is critical'. "Alongside the extension of our exchange network we've also announced a change in strategy to offer access networks, providing fibre connectivity direct to the offices and buildings in four metro cities – London, Liverpool, Birmingham and Manchester – while allowing us to bypass third party providers," she added. "This end-to-end service enables us to provide partners with better visibility and more competitive pricing, and supports the Government's full fibre ambitions."
Mills was also quick to identify that the industry is starting to demand higher capacities than ever before. "As part of our exchange roll out programme we made sure that the majority of our 550 on-net exchanges had capacity options up to 100Gbps as standard," she commented. "All of these exchanges are available to quote and order on our online pricing and ordering tool which offers full transparency over our own services and pricing, and the services of key third party providers across the UK including BT Wholesale, Openreach, Virgin Media Business, Vodafone, TalkTalk Wholesale Services, Colt, Sky Business and CityFibre."
According to Mills, the reality is that service providers with growth on their minds need a bigger vehicle to promote their ambitions. "The key thing I see developing over time is the concept of collaboration," she explained. "Service providers, more than most, are aware that in order to succeed they must often rely on each other. But as the requirements of our end customers grow, smart cities become the norm and technology continues to push the boundaries, there will be a point in time where, to serve all of the exciting changes coming to the industry, strategic alliances will be both necessary and hugely beneficial to all."
Neos Networks' Wholesale and Smart Infrastructure team provides connectivity to 400-plus service providers and their end customers and supports more widely known names like mobile network operator Three UK. "For me, some of the key growth areas are channel providers, the telecom tower industry, hyperscalers and the energy market," added Mills. "We believe these sectors are about to, or are already, experiencing rapid growth or change and that the right connectivity is critical to their success."
If anyone knows what there is to know about connectivity, it is Mills. She has worked in the telecoms industry for over 15 years, eight of them at O2 UK and seven years with Telefonica in Madrid. In 2018 she moved to Neos Networks as MD of Wholesale and Smart Infrastructure, working with channel partners, network operators and altnets to develop and support their digital initiatives.
"Telecoms is the industry to be in," she commented. "It is such a dynamic and fast-paced sector. But I'm aware that, in order to stay relevant, we need to keep pushing the boundaries, support the development of next generation technologies and those that serve it and continue to encourage growth in the sector."
Seduced by the comms sector's vibrancy, it follows that Mills would be equally attracted to a company that displayed a clear set of growth ambitions, which she says Neos Networks has in spadefuls, spearheaded by CEO Colin Sempill. "I saw a real and fantastic opportunity," she added. "I quickly agreed to be part of this exciting journey to help shape success and execute the businesses strategy. We know who we want to be and how we're going to get there."
Mills' goal is to remain focused on the business connectivity market in the UK only, and not be distracted by consumer requirements or trying to tackle overseas territories. "We also know what we're good at – connectivity – and our intention is to continue to excel in this space by constantly growing our network reach and delivering critical national infrastructure for our customers," she added.
To this end Neos Networks plans to connect an additional 150 exchanges, taking its reach to approximately 700 BT exchanges to grow its aggregation network. This, and access network build-outs in the four cities mentioned above is just the beginning, Mills pointed out. "We want to be known for providing high capacity core connectivity, so you'll likely see us invest in more data centres and landing stations for those hyperscalers looking for access to the UK," she commented.
For the wholesale market, Neos Networks' product set is very much built on fibre connectivity. Its core focus is layer two connectivity services where it provides Ethernet, Dedicated Internet Access, Optical and Dark Fibre. "Another point of interest for me is the adoption and development of next generation technology," observed Mills. "We've all heard the buzzwords – digital transformation, 5G, IoT, AI (and many more) – but we want to make sure that all of these developments have the underlying connectivity in place to power them. Our work with Three UK to support its 5G ambitions is a great example of this."
Mills noted that this is one of the most exciting projects she has been involved in to date. It began when Three UK approached Neos Networks (then SSE Enterprise Telecoms) in 2016 looking for an expansive core fibre network and high capacity business grade backhaul network that it could leverage to roll out 5G connectivity across the nation. "To do this we supported Three UK with its core and aggregation networks, connecting 20 data centres across the UK in regions decided by Three UK and its 5G strategy," commented Mills.
"Since then we have connected those data centres diversely to nearly 500 exchanges across the UK. Managing a supplier base of around 30 organisations is no easy task, but we were pleased to deliver ahead of schedule despite the pandemic and enjoy a great working relationship with Three UK as we continue to support its 5G ambitions."