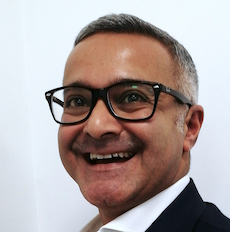 Luminet's Head of Business Development & Marketing Bimal Modha shows little interest in camouflaging his strategic intentions as he lays bare big expansion plans that speak volumes about his channel ambitions.
Nothing could be more calculated to drive growth, and repeat the trick year-on-year, than Modha's well thought out business plan, the details of which he will stick to like glue. He joined Luminet last September and wasted no time in fashioning a progressive corporate strategy that will see him play a significant role in delivering market expansion and influence at scale, fully leveraging his impressive channel experience. And on matters of execution Modha's approach will be to think broad and big about every opportunity. "I am focused on everything from SEO and sales enablement to building pipeline and growing the team to service the bow wave of opportunity coming our way in 2020/21," stated Modha.
Cocked and loaded having completed a new round of funding Foresight-backed Luminet is targeting eye watering growth over the coming two years as it seeks to duplicate in scale and double market penetration. In its 2019 financial year the business generated circa £5.8 million revenues and for the current year Modha forecasts revenue to close out at £6.5 million, increasing 30 per cent to £8.5 million by 2021. His longer-term strategy is to continue pushing hard and double current EBITDA on targeted £17 million revenues by 2023 and, remarkably, double up on this growth during the following two years.
Of course he has a cast iron plan and the immediate priority is to complete the build and launch of a channel portal which will enable partners to order Luminet's products and services and traditional fixed line fibre 24/7, 365 days a year. "With around 70 per cent of our business coming from the channel we are focused on providing partners with the tools and capability to self-serve, check if we are on-net, price up our solution and place an order," stated Modha. "This, together with regular surveys of our partners to develop and evolve our products and services, keeps us constantly innovating."
According to Modha, Luminet is plugging a gap in the market for channel partners unable to realise revenue until a circuit starts billing. "We can significantly reduce their jeopardy or stalled delivery schedules by getting a wireless connection installed quickly," explained Modha. "As we sell into a wider spectrum of verticals we find that, where fibre is not viable or has wayleave issues or an extended delay, a wireless solution deployed in most cases in 10 working days allows that site to operate."
Thus, says Modha, Luminet 'gives wings to fibre', providing wireless microwave connectivity based on line-of-site (LOS) from a multitude of base stations in London, which will increase in number during 2020. This capability is augmented by supplier partnerships with Siklu, Radwin and Cisco, which in sum enable Luminet to deliver an alternative network in the sky. "A wireless connection to the roof together with traditional fibre into the building truly means always-on, hence the 100 per cent SLA and uptime guarantee," stated Modha.
Luminet's Wireless Lite product is an alternative to EFM and can provide up to 50Mbps of throughput. Moving up the bandwidths, the firm's kit bag includes the Wireless Pro service that offers guaranteed speeds from 100Mbps up to 5Gbps, with a view to launching 10Gbps services in the new financial year. "We control all elements of the install and, due to the nature of our wireless solutions we can pretty much deliver 90 per cent of them to our customers in 10 working days," reaffirmed Modha.
A wireless connection to the roof together with traditional fibre into the building truly means always-on
Growth will be achieved by landing larger opportunities across all markets, he explained, noting that Luminet in particular has 'great traction' in the serviced offices sector. Its customer base is generally made up of finance sector firms, media organisations, professional services companies and the usual spectrum of clients. But an especially important market right now is addressing multi-tenanted (MTI) high rise buildings.
"There is a move towards smarter buildings where, post refurbishment, MTI locations need to have a high wired score and be pre-wired with diverse connections," explained Modha. "This means a new tenant can move in much faster without having to wait for the fibre to be installed, which can take several months. It also means that any new tenant can have their mobile, Wi-Fi and LAN infrastructure integrated so they are ready to focus on what they do best – their core business."
Luminet's market reach extends far beyond the niche nature of its early days when it was seen as an emergency service supplying wireless microwave links when fibre was stuck in wayleave or not feasible. "We've come a long way – we're now viewed more as either a pre-fibre provider or acting as a truly diverse alternative to fibre," added Modha.
Opportunities in multi-tenanted buildings are reflected in demand for diverse connections in the finance sector, most notably since the advent of MIFID II. And in the hospitality and hotel markets Luminet has seen increasing demand for all-encompassing connectivity from international clients at some of London's top hotels, because they want to offer 10Gbps guest Wi-Fi as the norm rather than the exception. "It's a big selling point, especially for conferences, streaming and bandwidth intensive services and corporate events – it's something we've seen picking up in 2019 and now 2020," added Modha.
It is universally accepted that today's employees and organisations need an Internet connection, and while 4G and 5G are useful, coverage remains an issue. It is in this problem area that Luminet continues to provide remedial solutions. "We're one of a few wireless microwave connectivity providers meeting demand in the marketplace," said Modha. "And we plan to launch a '10Gbps in 10 working days' campaign in the latter part of 2020."
Experience counts...
Modha's 20 year industry experience includes a ten year stint at BT ranging across BT Retail, BT Exact and BT Global Services in marketing, strategy and satellite sales in Asia, and BT's indirect operation working with partners. He then joined Tiscali (later acquired by TalkTalk) to head up marketing into its channel base, a move that preceded an eight year spell at Virgin Media Business where he led channel marketing and worked as an Account Director managing Entanet and Redcentric among others. He took Entanet from five circuits a month to over £5 million between January 2013 and December 2014.
Then, an opportunity to create a retention management division and launch a renewal portal at network operator Virtual1 proved irresistible. "Having delivered against those objectives I was persuaded by Luminet to head up its business development and marketing functions," explained Modha. "My first job was to look at how we marketed our products and services and how we could on-board a number of key partners. With that task now completed I've started to look at the bigger picture and explore how Luminet can enable partners to drive volume and promote our wireless portfolio."
Just a minute with Bimal Modha...
Role models:
The Dalai Lama and Steve Jobs. They never gave up and pursued their dreams with passion, inspiring a whole generation
What talent do you wish you had?
To occasionally extend the day or stop time so I can savour the moment
Name three ideal dinner guests:
Barack Obama, an inspiring statesman who came from humble beginnings; Groucho Marx for his comedic value and unique perspective on life; and Graham Norton to help quiz Barack Obama and keep Groucho on his toes
Best advice you have ever been given:
Draw out a plan on a piece of paper, look at it every three months and, if you keep focused, 80 per cent of what you've committed to will happen. Having a plan is half the battle
If you weren't in ICT what would you be doing?
I'd be a pilot
Lesson learnt:
To be less accepting of the status quo, don't just kick the can down the road, always fix the fundamentals, create a plan of action and stick to it
Industry bugbear:
Mobile contracts – they are designed to confuse people
How do you relax when not working?
Summers in Sicily
What do you fear most?
Forgetting to write down a killer idea during a creative session
Top tip for resellers:
Getting the right team around you can create an ecosystem that will drive exponential growth