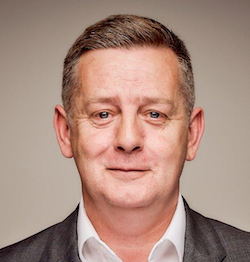 The rise of collaborative partnering is best displayed in the relationships MSPs forge with customers, according to Core Technology Systems CEO Conor Callanan.
Core Technology Systems expanded into Scotland in August this year with the acquisition of Microsoft Gold Partner CompanyNet. The buy strengthened Core's technical capability, added 25 employees and offices in Edinburgh and Glasgow. The move follows Core's acquisition of Parative in May 2013, and is indicative of its Microsoft centricity, building on over three decades experience in designing, developing and delivering Microsoft solutions to UK businesses.
Core was established in 1990, and in 2002 Callanan completed an MBO which cemented his strategy for Core to be one hundred per cent focused on Microsoft. "Microsoft had an inspiring vision and innovative technology for business growth, and it was growing fast," stated Callanan. "This enabled us to grow faster, and we're not slowing down with more than 30 per cent growth in the last 12 months."
 
Core became a Microsoft BPOS (the precursor to Office 365) Partner in 2009, and is credited with delivering the first installation of SharePoint in the UK for Microsoft in 2001. "We saw BPOS and Azure as a way for Core to provide managed services without the need to invest in data centres," said Callanan.
Core is now a £12 million revenue business with a 105 headcount, serving a customer base that spans SMB, mid-market, enterprise, public sector and commercial customers, mostly sitting in the 200-2,500 seat range. "We are expecting double digit revenue growth in 2023 with plans to grow our newly acquired business by 30 per cent," added Callanan. "Our growth plan is set to achieve £20-plus million turnover with 15 per cent EBITDA through organic growth and M&A activity."
Callanan also noted that Core is driving towards more outcome-based solutions through closer customer and partner engagement. "Discovery sessions have become pivotal for our customers, so we continue to develop our Learn, Engage and Plan approach to market," he added. "Surprisingly, there are still many businesses that have significant workloads that need to move to the cloud, and efficient process management and project management will always be a necessity for productive businesses. We are enabling more customer self-service where they want it and will continue to demo and support customers seeking to improve employee engagement and experience with Microsoft Viva. Our customers' need to better connect with, engage, educate and support their employees in hybrid and remote workforces also drives our solution focus."
Another key priority is the development of security and compliance propositions, along with driving efficiency and shift-left success. And to help businesses overcome weaknesses in their planning to meet the demands of forced and rapid change, Core has adapted its propositions to make managed services more flexible and accessible. "This helps to manage cost, flexibility and scalability," said Callanan. "And it provides more opportunity for monthly recurring revenue.
"We've also looked internally at how we can be more efficient, automating more processes and implementing a new PSA system. Furthermore, we're taking steps to improve our sustainability by reducing our carbon footprint and creating propositions that address this requirement for customers."
Customer value also lies in businesses being able to outsource overheads and costs while enabling their organisation to be more agile, adaptable and scalable, believes Callanan. "We're seeing a strong appetite from businesses looking to outsource their IT overheads, including the expense of expertise, certifications, security and compliance," he said. "The value for MSPs is in supporting a wider range of customers with outcome-based pricing that utilises their in-house talent. MSPs will continue to move from more traditional and legacy technology into the app dev space as platforms like Microsoft 365 and Power BI mature and become central to business processes. At the same time, we drive monthly recurring revenue, moving away from capex and continuing the trend to opex-based pricing."