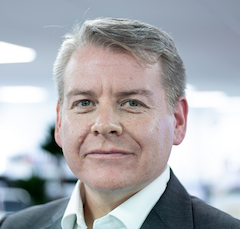 Convergence Group Managing Director Danny Masters underlines the criticality of strategically aligned business and commercial models.
What challenges have you noted in the shift to home working?
Moving to permanent hybrid working does not come without challenges. Recent research found that 22 per cent of remote workers struggle to switch off from work and enjoy their free time. Helping your team draw a line between working hours and personal time is vital to ensure employees don't become overworked or suffer burnout. Plans should be put in place to keep the workforce aligned to the schedule they should be working to.
How have you adapted your approach to the changing market?
The pandemic has clearly had a huge impact on how and where we work, and has for many been a period of reflection, particularly when it comes to thinking about the office and traditional workplaces.
It is abundantly clear that for the foreseeable future at least, hybrid working is here to stay and businesses have to adapt to accommodate these changes. In this new environment, it is likely we will see businesses crave greater autonomy over their workplace – and network set ups – so that they can be flexible as their own workforce changes.
This is an important part of the Convergence Group offer, and we recently acquired network specialist LAN3 to scale up our operations and deliver network infrastructure for our customers. It is about delivering for our customers and making sure they have the infrastructure in place that totally supports whatever decision they make about their working environment. The flexibility that we offer our customers is a huge opportunity for us going forward.
We are driven by our ambition to deliver a commercial model that disrupts and forces change through a maturing industry, giving customers control of an essential utility through a pay-as-you-go subscription, which they can update at any time based on business need. We believe that technological freedom and autonomy over network connectivity should be the norm for every business in the UK – no matter where they are working from.
What advice do you give to businesses challenged by the new everyday?
Listen to your team. Communication is key. Regardless of how your business is shaped people want clarity in what is expected of them. The home office set up should be taken as seriously as the shared office set up, the right environment, policies and network security is imperative to your employees' wellbeing and also your business's safety.
We have worked hard to make sure that everyone feels comfortable in whatever environment they choose to spend their working day, while also retaining our collegiate working habits. We apply the same principles of flexibility and customer choice to our own team. We are in constant communication with all our customers about their network requirements and we understand that the pandemic has seen traditional working patterns chop and change dramatically.
What other factors should be a chief consideration right now?
It's also important that businesses realise that the onset of home working has put their data at risk. The single biggest piece of advice I would give is take the time and diligence to ensure that your data security systems can cope with workers accessing your networks via home Wi-Fi, which is fundamentally insecure.