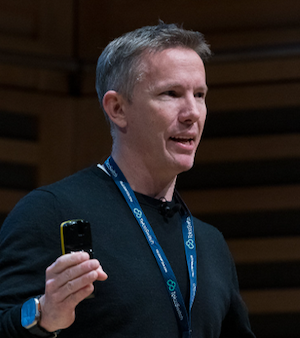 Newly appointed TelcoSwitch CEO Matt Mansell aims to leverage his software know-how and position the channel business at the vanguard of the burgeoning Comms Platform as a Service market.
Mansell wasted no time in presenting his CPaaS vision to partners, taking the stage at Kings Place, London, just five weeks into his tenure. His appointment in January is reflective of the vendor's emerging software focus and signals a move into the growing CPaaS market which is said to have grown 20 per cent in 2022 and is set to be worth $26 billion by 2025. "There will be a big transition as we move from UCaaS to CPaaS," he told partners at the company's Where's The Focus 2023 event. "Continued hybrid work structures and the PSTN switch off means there is a perfect storm to drive widespread adoption of these platforms. To make the most of this opportunity we need to think about software, not just telecoms."
Mansell's software pedigree is significant having worked on platforms Dreamweaver, QuarkXpress and GoDaddy. And key to TelcoSwitch's strategy is his latest SaaS platform, Yay.com, which was acquired by mutual backers Queen's Park Equity in November last year. The platform handles 2.5 million API calls, 180,000 webhooks and one million VoIP packets. "The Queen's Park Equity family is now strongly placed to help partners leverage opportunities relating to the PSTN switch off," Mansell added. "The wider group is better placed to equip partners for conversations with the CIOs who are still burying their heads in the sand."
To make the most of this opportunity we need to think about software, not just telecoms
TelcoSwitch sits alongside technology partner Yay.com and provides a CPaaS platform that Mansell states can grow and scale. The platform, CallSwitch One, is due to be brought out next quarter. "We are introducing the 'next generation of IP' that is CPaaS ready and built with integration in mind from the beginning," added Mansell. "As a technology-led business, longevity is important. A cornerstone of this strategy is delivering a next-generation platform, empowering us to innovate and 100 per cent housed in public cloud infrastructure for security, resilience and horizontal scalability."
Mansell reiterated that TelcoSwitch will not be abandoning its UC heritage, noting that hybrid working continues to drive market growth with a CAGR of 5.8 per cent. "There will be a sunset one day but that will be led by partners," confirmed Mansell. "I won't draw a line in the sand and partners will be able to decide when is right for them to migrate."
TelcoSwitch's partner base numbered circa 450 at the end of 2022, a steep rise from sub-50 in 2019. This growth trend will be less aggressive going forward, according to CMO Simon Blackwell, who noted: "We are looking to boost the quality of our current base."
This approach has prompted a refresh of the vendor's partner programme which includes a tiering system for the first time. From Q2 onwards TelcoSwitch partners will be categorised as Channel Partners (50-plus seats), Platinum Partners (500-plus seats) or Carbon Partners (1,500-plus seats). These three cohorts have access to digital partner media with the top two also receiving physical kits. Carbon sponsors will also gain access to marketing development funds.
"We thought hard about how to do this differently as MDF is usually a boring process and only supplements the usual marketing budget," said Blackwell. "We want initiatives that sit outside of our partners' standardised marketing budget and are encouraging them to come to us with any ideas they truly believe in. We may believe in them too and split the risk down the middle."
TelcoSwitch has also brokered deals with three software vendors to bolster its programme. The first is Lead Forensics which reverse IP tracks visits to a website. TelcoSwitch has negotiated 10 per cent off for Platinum Partners and 15 per cent off for Carbon Partners. This same deal applies to HR platform Breathe HR. TelcoSwitch has also partnered with Tapni, a sustainable business card model. "We want to add value for our partners even if the software does not relate to our platform," added Blackwell. "We aim to continue bringing in new software partners."