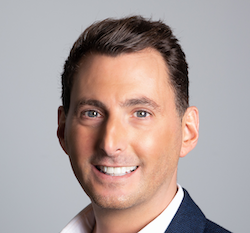 After registering significant growth in revenues, staff numbers and channel partners – and having passed the 100,000 user milestone, this all points to another supercharged year for TelcoSwitch, says CEO Russell Lux.
Covid-19 will continue to serve as a catalyst for TelcoSwitch's activity in 2022 and thereafter as it seeks to capitalise on trends such as the growing requirement for omnichannel solutions, which are sparking demand for new services. The pandemic is also driving strategic changes across the channel and has prompted business leaders such as Lux to reassess their approaches. "Strategically, one of the biggest things I learned during Covid-19 was not to be afraid to go in the opposite direction to everyone else," stated Lux.
"When the economy slowed down it would have been an easy decision to go carefully, reduce costs and play it safe. Instead, we took the decision to push the business. It was a great opportunity for us to recruit some excellent talent in many different areas of the company, and I'm glad we did because finding good people is a lot more challenging right now. Had we not taken the decisions we did at the time, I know we wouldn't be in as strong a position as we are now."
According to Lux, the challenges and opportunities faced by business leaders today are different to the ones of yesterday, but tomorrow's will be different again. "In the traditional sense people often view leadership as something reserved for someone who runs a team or a business, but I don't see it that way," said Lux. "Leadership is about looking out for the people you work alongside as much as the people who work for you. Those are qualities we seek out in anyone looking to join TelcoSwitch.
To us, omnichannel is to UC what VoIP was to ISDN
"Everyone in our business is encouraged to put their hand up, question something they think is wrong or something they think we could do better and support the people around them. That's leadership at TelcoSwitch, it's that mentality that's got us here, and it'll take us where we want to go."
The past two years have seen significant growth across the entire TelcoSwitch organisation and Lux is seeking to optimise and build on the progress made. "We've seen a lot more businesses join our community of channel partners which translates to changes everywhere else," he added. "Unsurprisingly, more partners equal more services sold, so we needed to recruit heavily to keep up with demand across sales, support, customer success, DevOps, finance and so on.
"There's not one department where we haven't regularly welcomed new colleagues over the last 24 months. Obviously that's introduced new challenges around onboarding people, getting them up to speed and ensuring their wellness in scenarios where so much of this happened remotely. It's a similar story with acquisitions, where we've welcomed other businesses to TelcoSwitch in a majority remote fashion."
Portfolio development
Last year TelcoSwitch also placed an emphasis on adding new products and services into the partner portfolio and bolstering its support and marketing services. "The response from existing partners, long-term partners and newcomers has been excellent and we'll work to continue our efforts this year," confirmed Lux. "I can't give much away, but we're currently building out some new partner services that we'll be announcing in Q2."
TelcoSwitch is heavily invested in omnichannel and the depth of channels customers use to interact with the companies they buy from. "We're bullish on where we see the trend going," commented Lux. "We know voice and UC are the staple diets of teams communicating with one another and their customers, but integrating social media and other digital channels, along with integrations with other platforms, is the next level. To us, omnichannel is to UC what VoIP was to ISDN."
TelcoSwitch's growth throughout the pandemic has been well publicised. It made the top 25 of the Sunday Times Tech Track 100 in its final 2020 publication, doubled its channel partner base in 2021 and hit 100,000 users in Q1 of that year. "Sometimes people forget most of our growth has been organic and we've had to push hard across sales, marketing, customer success and more to keep that momentum," noted Lux.
"If in 2019 you'd asked me if you could not only run a business 100 per cent remote, but grow it, complete funding rounds, acquire other businesses and triple headcount, I'd have said no. Yet we have, and that's all happened because we've got great people who work with us, and great partners that trust us. It's pushed the boundaries on what I thought was possible, and I think all of us have experienced that in some form throughout the last couple of years."