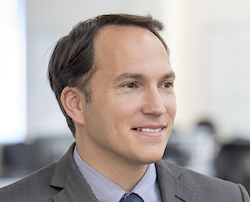 Comtec Enterprises CEO Nick Claxson has displayed the courage of his convictions as he seeks to steal a march on rivals with the launch of an AI-focused software division.
Claxson's drive to help businesses realise their goals prompted him to establish IT solutions provider Comtec in 1994, when he was a teenager. The business went Limited in 1999 and continued to grow rapidly. "IT was blowing up like never before and I soon found myself with a career in the heart of a blossoming industry," he said. "We built data centres to support our customers, bought lorries to help them move and set up. We went with our gut and what was needed at the time, which served us well. In recent years, thanks to the introduction of the cloud, we've streamlined our focus exclusively on tech, particularly AI, and are currently in the throes of another period of growth."
Becoming an APC Elite Partner in 2002 was the first big turning point for Comtec. This paved the way for more milestones, including the build of its own UK-based network and data centre in 2006, and strategic repositioning to focus on the hybrid cloud marketplace in 2019. "Our focus on the hybrid cloud marketplace has been the biggest change to Comtec in recent years," explained Claxson. "We've seen acceptance in the market that there needs to be a physical/cloud hybrid, we've seen the ecosystem become more rounded, and we've tailored our business to meet those needs."
Comtec is a Deloitte Fast 50/Fast 500 company and in 2007 it was designated a Growing Business Magazine Young Gun. A year later Claxson was an Entrepreneur of the Year finalist for the Innovation and Growth Forum. In terms of revenue, Comtec is expected to generate between £5million to £10 million this financial year, though Claxson is confident he has the people, proposition and customers in place to see revenues approach £15 million over the short-to mid-term. To help drive growth Comtec has more than doubled its headcount from 25 to 60, with more hires planned. "In three-five years time I would like to see Comtec as a strong contender in the UK tech arena," noted Claxson. "I have no doubt that we will make this happen if we continue to focus on our people and customers.
AI and the insights it can offer are going to be huge
"Our priorities will always be our people, be they customers or staff. The wellbeing of the Comtec family is at the front of my mind, this year more than ever. We have a Head of Wellbeing on hand to ensure staff are happy, can manage their pressure and aren't feeling isolated while working remotely. People are the building blocks of any successful endeavour, so it's vital to make sure they're happy."
Taking a longer term view of client relationships also features heavily in Claxson's thinking, which is shaped by past experiences. "We have, over the years, won some incredible projects that I wish we'd recognised the value of at the time," he said. "The Shard is one such example. We did several successful projects together, but at the time we were very much concentrating on one thing, doing it, and moving on to the next big contract. In hindsight, we should have stopped, considered our next move, and tried to create ongoing partnerships with the clients."
Claxson's approach to relationships feeds into his championing of the business potential of AI, which he says is growing from strength to strength and will be vital in the coming years. "We're so invested in the potential of AI that we've created a separate software division with the sole task of pushing us into this area for the future," he said. "AI and the insights it can offer are going to be huge. Our biggest opportunity is to use AI to offer our customers insights into their tech, how efficiently they're using it, visibility of their data centre – you name it. It may be a new technology but at the end of the day it comes back to simply adding value. Delivering added value means a sharp rise in customer satisfaction, a stronger business offering and an ace up your sleeve that sets you apart from the competition."
Just a minute with Nick Claxson...
Role model:
Warren Buffett. He has a great outlook on life, has good viewpoints, yet isn't outlandish.  
What talent do you wish you had?
To time travel. There are so many things I'd like to go back to and experience all over again, and a few things I think I could have done better with hindsight.
Tell us something about yourself we don't know:
I'm an identical twin.
Best piece of advice you have been given?
Don't try and reinvent the wheel. Before you start, ask yourself why you're trying to change something so much? If it's round and it rolls, let it roll.
Who do you admire most in the channel:
I'm fascinated by Softcat, an inspiring company.
If you weren't in the ICT industry what would you be doing?
I'd work in wellbeing  – coaching, things like that.
Name three ideal dinner guests:
Steve Jobs, Bill Gates and Mark Zuckerberg. Two traditional tech heads and one new age social media man.
Your biggest achievement?
Being recognised by my peers is always hugely affirming.
Your main strength and what could you work on?
My strengths are tenacity and persistence. My weakness is that sometimes I bite off more than I can chew.
How do you relax?
Working on my 1979 MG Midget. No tech, purely cogs and oil. It switches my brain off.