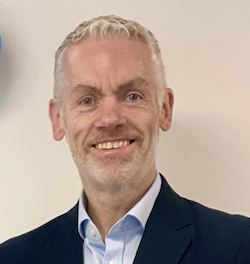 Comms Dealer doffs its hat to FluidOne CEO Russell Horton who has built an ever-ambitious and powerful growth engine underpinned by capabilities that continue to provide real opportunities in the market.
FluidOne's acquisition of Sheffield-based Microsoft Gold Partner Highlander Computing Solutions in January this year boosted group revenues by 35 per cent and increased the presence of IT services in its portfolio to almost 50 per cent. The deal followed FluidOne's investment in Microsoft Gold Partner Marathon Information Technology Services in May 2022 and forms the basis of a key plank in Horton's overall SME strategy. "We plan to scale out Highlander as a centre of excellence within the FluidOne group, leading a branch network of SME IT services in addition to its strength in enterprise IT infrastructure," he said.
Having trebled in size since Horton led the Livingbridge-backed MBO in February 2019 FluidOne is now a £92 million revenue group with 390 staff serving 2,000 customers. The relatively quick growth journey has seen FluidOne transform into a connected cloud solutions provider with nearly 50 per cent of turnover currently coming from IT and cyber services. "We identified two material opportunities to meet customer requirements," stated Horton. "The need to support mid-market and enterprise customers with Azure-based digital transformation and the provision of local trusted IT services to customers with under 200 employees."
Horton describes his long-term objective as a 'big hairy audacious goal', aiming to more than treble the size of the business to £300 million revenue and 1,200 staff by 2030, while having a brand reputation for impeccable service, strong values and an engaged workforce. So what's his plan? "My key priorities include communicating and evangelising a clear strategy within the business and externally," he explained. "This means setting clear objectives for the leadership team to cascade and communicate across the group, ensuring an aligned approach to achieving common goals. Providing motivational support and leadership to the senior management team is also crucial, empowering them to innovate and be entrepreneurial within their business units."
We plan to scale out Highlander as a centre of excellence, leading a branch network of SME IT services in addition to its strength in enterprise IT infrastructure
Horton joined FluidOne in 2018 when the business was 80 per cent connectivity and 20 per cent mobile, generating £26 million revenue and employing 80 people. "I recognised a great opportunity to take FluidOne as the platform to build out the full portfolio of services creating a one-stop-shop from end user to application, where end users work from multiple locations and applications are typically in multiple cloud and data centre environments," he added. "Our next stage of growth will focus on building out elements of the portfolio in more depth based on the requirements of different segments in our customer base. This includes areas for enterprise, SME and reseller partners."
Much of Horton's strategy is underpinned by the acquisition of managed SD-WAN network provider SAS Global Communications in January 2022 – a £19 million revenue business with 120 employees operating on different back-end systems, and with its own core MPLS network. "The integration of SAS proved to be a major programme of work," noted Horton. "A key metric for measuring the success of the integration was to ensure continuity of high service levels while retaining and motivating staff. By December 2022 we had completed the integration and appointed a number of SAS employees into senior management roles in FluidOne. In January 2023 we reported an NPS score of 85."
Horton will continue to assess acquisition opportunities and focus on staff engagement, values and culture which he sees as critical elements of a winning strategy, along with the vital task of supporting relationship management with stakeholders including investors, partners, suppliers and key customers – all designed to maximise on FluidOne's strong position in a growing market space. "With the continued fragmentation of supply in the UK connectivity market I see the role of the aggregator becoming increasingly important, particularly for multi-site customers," stated Horton. "We join together the best choice of regional connectivity suppliers into a single simple-to-consume service for the customer. We will evolve our network by continuing to add altnet providers as they pass enough business addresses and have proven reasonable levels of service quality to be valuable to our customers and partners."
Our next stage of growth will focus on building out elements of the portfolio in more depth
FluidOne's national software defined network, called Platform One, brings together the services of over 30 carriers and suppliers across MPLS, Ethernet, DSL, FTTP, SD-WAN, SASE, mobile and IoT. Furthermore, Horton has compiled a whole stack of services for FluidOne's connected cloud solutions including SD-WAN, IT enterprise cloud, IT SME managed services, UC, contact centre, mobile, IoT and cyber security. Now, he is reviewing CCaaS options, PowerBI, data lake services, widening the range of cyber services and keeping a watch on the application of ChatGPT.
As mentioned earlier in this article, Horton is currently strategising his staff engagement and development priorities for the coming year. "We run a wide programme of employee engagement, utilising our own technology platforms to keep our teams connected for regular training, social events and monthly reward and recognition," he said. "We support and encourage the voice of our people and have introduced employee-led improvement initiatives to empower them to drive innovation."
Agility is also key because Horton expects to see economic uncertainty continue to impact customer demand and budgets in some sectors, requiring a strategic shift from FluidOne to align with the challenges of those customers most impacted.
This is also reflective of a strategic challenge facing many channel partners. "To deliver a joined up service resellers need to combine connectivity, mobile, UC and IT services," he commented. "They can do this organically, by acquisition or by partnering for the elements they don't have in-house. We see great results with strategic partners where we sell with them, driving a joined up consultative conversation and bringing together the services required that our partner doesn't have."
The ongoing drive to the cloud and emerging technologies to support this shift are the biggest factors impacting the market, believes Horton, who pointed out the wider implications of a converging market and industry change on resellers. "For several years we have seen IT MSPs moving into the comms space and vice versa," added Horton. "Therefore, resellers need to keep evolving and adopting the technologies that their customers need. Major events like the ISDN switch off are catalysts for this type of change, so resellers need to be on the front foot and proactively leading their clients."