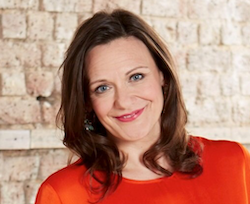 A new access product from CityFibre accelerates the speed to market for ISPs across the altnet's fast expanding national footprint. What does this mean? Head of Consumer Sales Emma Goodwin explains.
The launch of a new National Access product by CityFibre eases the process for wholesale partners selling consumer FTTH broadband to residential customers across CityFibre's nationwide footprint. And according to Goodwin the product supports CityFibre's mission to upgrade and level up the UK's digital infrastructure by opening up the opportunity to connect to its full fibre network to the wider ISP channel and underpin the company's target to reach eight million premises by 2025.
 
The National Access product follows a major investment by CityFibre that brings together all of its local access networks onto a multi-terabit nationwide backbone. The investment is estimated to exceed £65 million over the next seven years and is designed to deliver an expanded service proposition and improved customer experience for partners. The move is also expected to accelerate partners' speed to market in locations as they come online. According to Goodwin it will make entering new markets easier and more cost-effective for partners not wishing to set up local network infrastructure of their own or invest in third party backhaul.
"Under the local access model, CityFibre manages the network and traffic from the consumer premise to the local fibre exchange (FEX) from where it's handed off to the partner ISP," explained Goodwin. "The National Access product takes this model a step further and handles everything from the FEX all the way to the partner's selected interconnect location. This effectively means that ISPs only need to invest in the interconnect once to gain access to the national footprint, rather than in each city or location they wish to sell CityFibre services."
With interconnection points at strategic locations across the country, partners will ultimately be able to market, sell and provide consumer FTTH services to all premises on CityFibre's networks, noted Goodwin. The product was initially launched with five interconnect locations – Edinburgh, Leeds, London, Manchester and Slough – with more to follow this year.
"The new product will utilise CityFibre's local access and national backbone networks with diverse entry routes and ring-based core network infrastructure," added Goodwin. "It will also support multiple services across residential, SME, larger corporate customer segments and 5G small cells, using CityFibre's Passive Optical Network (PON) architecture within the same single shared network build."
Goodwin believes that the product will catch the eye of all ISPs no matter their size. "We expect some larger partners will use the National Access model to test the market in new locations before investing in a local access approach," she commented. "For smaller ISP partners, the National Access model removes the financial barrier to entry of investment in each local area, making access to the nationwide footprint possible. Each new customer ordering a service from a partner will be offered an installation date within five working days of placing their order, providing them with rapid access to the speed and reliability benefits of full fibre."
Goodwin also noted that when ISP partners join CityFibre they can choose how they interconnect. Either locally in business Fibre Exchanges, enabling targeted growth in a specific town and city, or nationally to address its UK-wide available footprint. "Our national interconnect ultimately means ISPs can connect once and capitalise on the UK's consumer premises as their next revenue stream," she added.
CityFibre currently has over 30 consumer ISPs selling its symmetrical full fibre broadband services. And in November last year it signed a major extension to its partnership with Vodafone which made long-term volume commitments over CityFibre's nationwide footprint, leveraging the National Access product. "Using the new National Access network other wholesale partners, alongside Vodafone, will ultimately be able to provide full fibre services on CityFibre's networks," stated Goodwin.
The launch of the National Access product came swiftly after CityFibre announced that over one million homes were ready for service across its network. Goodwin also pointed out that CityFibre's infrastructure is delivering more than just high-speed full fibre connectivity. "We're working with partners to co-create an enhanced customer experience for businesses and residential consumers, pushing the boundaries and setting new standards for the industry," she claimed.
"Furthermore, in the closing months of 2021, CityFibre was named Best Infrastructure Provider at the ISPA Awards and Best Altnet of the Year at the Comms National Awards. These wins demonstrate that CityFibre has been successful in disrupting the market and challenging the incumbent, providing choice to the market."