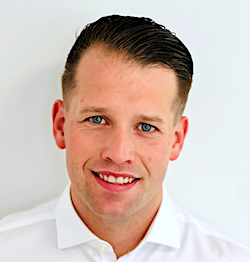 Following a merger with The Mailing Room late last year Riddoch says he is on track to create the leading franking machine and telephony supplier in the UK.
What was your route into the comms sector?
I fell into comms in 2013: I had a job offer in London working in the City, but my girlfriend (now wife) didn't want to move down south so I swung my attention on the technology sales space as I was interested in tech and landed at EE as the youngest Senior Business Manager the company has ever recruited at 21 years of age. I have always had an entrepreneurial mindset and come from a strong business background working for family firms and also running my own e-commerce stores from the age of 13.
What catalysed your decision to establish Agility Comms?
My entrepreneurial drive and passion for technology led me to starting Agility in 2017. I founded the company following a frustrating experience working in the large corporate space and witnessing low levels of account management. I knew Agility could do better. We then niched down in three core areas, focusing on business mobile, VoIP and connectivity.
Why did you partner with The Mailing Room?
In November 2022 we merged with The Mailing Room (TMR) to create a new business for franking and telecoms services. The venture presents significant cross-sell opportunities for both businesses. Longer term, the strategic goal is to provide our products and services to the base of 7,000 customers at TMR through our digital transformation agenda. TMR is able to increase its product portfolio, offering increased value to customers which will in turn aid customer retention across the group .
What integration challenges have you faced?
Navigating the acquisition process is nothing new for The Mailing Room, having acquired six operations since 2015, successfully bringing each into the fold to develop new internal expertise. These initiatives have enabled TMR to develop into the UK's leading independent supplier of mailroom technology. Staff numbers are due to double this year, turnover is set to increase by 50 per cent with a focus on delivering our enterprise telephony, Agility Voice, to the customer base.
What other factors are shaping your market approach?
Daily changes are shaping Agility. In terms of market approach, we leverage multiple methods of digital and traditional marketing and use software to analyse what works and what doesn't, which allows us to make changes quicker.
Which new technology areas are on your radar screen?
AI will transform many businesses across the world. I believe using AI technology with telephony will be a game changer in the next five years.
 
What trends are you tracking that interest you most?
We see market competition increase on a yearly basis, so offering value to the customer in terms of additional products and services bundled into our solutions will be key to customer acquisition and retention.
What is your biggest opportunity?
Partnering with The Mailing Room, the largest independent franking machine supplier in the UK.
What is your biggest career achievement?
Starting Agility Comms with a laptop and phone from a coffee shop in Formby.
In hindsight, what would you have done differently?
Left the corporate world a lot sooner to start growing businesses.
Role models
My dad who gave me the advice and confidence to pursue business; and Michael Jordan for his mental strength.
 
Three ideal dinner guests
Robert Kiyosaki, Bill Shankly and Michael Jordan. They are all winners.
We are your strengths, and what could you work on?
My greatest strength is my drive, enthusiasm and persistence. I never give in. But I have been working on the art of delegation for some time. There is still work to be done.
What are today's leadership priorities?
Embracing change: An example would be working arrangements. We support remote working as it encourages staff retention, better work-life balance and increased productivity.
Tell us something about yourself we don't know
I broke my femur playing football when I was seven.
Best piece of advice you have been given?
You have two ears and one mouth, use them in that proportion.
 
If you weren't in IT what would you be doing?
I'd have pursued a career in the city or worked in the property sector full-time.
 
What's the biggest risk you have taken?
Leaving my enterprise role and setting up Agility. I always felt that I needed to be involved in the creation of businesses. This will never change.
How do you relax when not working?
Typically, I try and keep myself fit by playing football, going to the gym and going to Anfield (not so relaxing this season).
Top tip for resellers
Without a great team it will be hard to achieve your objectives. So recruit the right people with the right fit for your vision and goals. The rest will take care of itself.n