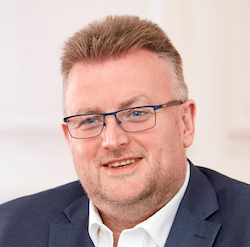 Agilitas CEO Shaun Lynn discusses the post-Covid issues that he believes are becoming increasingly important for business leaders to navigate.
The major business issues in today's world will no doubt remain just as important in the future, therefore a long-term strategic rethink is the order of the day. "Today's leaders need to be clear in their vision and communication," stated Lynn. "They need to be consistent in layering the message to reassure; they need to be leading by example in the thick of the action; and they need to be honest – no one has a monopoly on the right answer."
The challenges that many business leaders have faced over the past two years are truly unprecedented, noted Lynn, but the experience can be beneficial. "It can only make you a more rounded and thoughtful person, which can be a benefit to you as a leader," he said. "The main challenges most leaders are facing today are a lack of resource and access to talent, inflation, variable market demand, working capital pressures and supply chain shortages, to name a few. These are once in a generation challenges that no text book tells you how to navigate."
Despite Covid-19, Agilitas expanded its facilities and headcount. It opened new logistics hubs and centres of excellence in a non-traditional way, as well as expanding its workforce by up to 60 per cent. "We've had to change our recruitment model, induct staff remotely and develop a knowledge transfer programme," added Lynn. "This is totally different to how we worked prior to Covid. Yet our business has doubled in size during the pandemic and continues to grow."
During the past two years Agilitas also doubled its revenues and more than doubled its EBITDA, leading to a secondary management buyout (SBO). Furthermore, the company attracted significant external investment. "There were many factors to the success of these developments – a clear vision and strategy, a momentum that existed pre-Covid, increased demand for services and the ability to leverage and aggregate assets for customers' benefit," said Lynn. "Ultimately, the biggest learning point during Covid was that people buy from people in all senses."
As mentioned, Agilitas' growth is in part attributable to pre-Covid trends and momentum, but these are not the only drivers. "Covid has made everyone question what they do and why they do it," added Lynn. "We learnt a number of lessons, ranging from the extent of demand for the services that we offer, which intensified during Covid, to making sure we keep communicating with our staff and customers. We reviewed our operation and offerings and sought to focus on the core where we add most value. Our priorities are largely focused on managing growth and ensuring that the quality of our services, operations and people are in line with our customers' expectations. We are also focused on understanding who and why our next 30 tier 1 customers will be."
According to Lynn, the lasting legacy of Covid will be for annuity revenues and quality of earnings to be far more prevalent in the IT and communications sector. Not least because the shortage of products and constraints on supply chains are prompting people to think about services more than ever before.
"Those that currently deliver services are questioning whether they are sub-scale and better off partnering with the businesses that have flourished during Covid, namely the as-a-service, born in the cloud generation that is far more agile," commented Lynn.
"Another positive aspect of the pandemic is that most businesses spend far less time worrying and thinking about what their competition is doing, and are now far more focused on their own purpose and what they are going to do over the longer term. In this context, those businesses that really understand their employees and develop the right connections and culture will be the ultimate winners."
The key to long-term success also resides in harnessing inspiration, believes Lynn. "Inspiration is all around us most of the time – the challenge many of us have is to open our eyes to it," he commented. "I've been inspired by many things: How people adapted to remote working, how they supported one another with remote social activities, and how the fear most of us felt for our businesses, families and friends turned into hope. None of us now will ever take for granted the time we spend in person with family, friends and loved ones, or going on vacation and sharing new experiences."