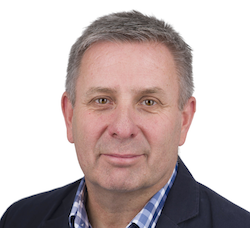 Evolve IP's growth ambitions have been boosted by the alignment of key strategies, pulling together the threads of operational teamwork, skills and capabilities, fresh talent, culture, cloud technology and an unwavering will to win, says MD EMEA Paul Harrison.
Harrison was previously CEO of thevoicefactory (tvf) which was acquired by US cloud business Evolve IP in 2018. The deal followed tvf's success at partnering with vertical-specific resellers and developing products to target particular markets. The company's US expansion move put it under the noses of potential acquirers keen to buy into its expertise and market position in the UK. And the subsequent Evolve IP deal met Harrison's aspirations and provided a platform for European expansion. Evolve IP itself has been running for 14 years and has offices in the UK, Netherlands and the US. "Evolve IP has been through some vigorous changes, aligning services across EMEA and working more in unison with the US," stated Harrison.
"The EU and UK teams have joined together and we are working as an EMEA focused business. My role as Managing Director of EMEA is to align our common goals as a team, streamline our technical solutions and provide partners with what they need to deliver a service. We are connecting better as a global organisation and listening to each other, gaining from our team skill set, and using this to grow and better understand our customers and the solutions we roll out."
Evolve IP has over 500,000 global users. The UK operation grew 16 per cent in 2021, and 2022 projections are for 20 per cent growth globally. "It is an ambitious target but the work we have been putting in over the past 12 months means that we are prepared for growth and ready to take on partners," added Harrison.
My role as Managing Director of EMEA is to align our common goals as a team, streamline our technical solutions and provide partners with what they need to deliver a service
Evolve IP recently collaborated with The Cavell Group to gain insights into the cloud communication market and where the industry is moving to over the next five years. "This insight has cemented our approach to growth and how we are developing as an organisation," added Harrison. "We have proven that we can support healthcare, hospitality, automotive industries and many more. We create purpose built solutions to solve problems and enhance communication strategies. We will continue to work with key partners to grow and develop our suite of solutions."
Evolve IP partners with IT professionals to bring together their essential productivity and communication tools into a secure cloud-based solution, fine tuned for the hybrid workforce and delivered as a service. "Today, the office is no longer just a physical place – it is a collection of people who need to work together from wherever they are," observed Harrison. "So, no matter how locations, tools and partners shift over time, you have a solution that makes the future of work better for everyone."
Covid has been a big driver in the move to the cloud and businesses will mainly revert to hybrid working, keeping a remote element to their workforce, believes Harrison. He also says that MS Teams will have an impact on pricing, and that the next five years will see a refocus of on-premise vendors moving to cloud models. "Cloud is on the agenda," he stated. "According to The Cavell Group report we worked on there is 13.5 million cloud communication seats still available. This is great news for us and shows that there is more growth ahead than there is behind us."
To help consolidate its position in the global cloud communications industry Evolve IP partnered with Cisco as an early adopter of Webex. "Globally we are working together to deliver the best service we can to the businesses and customers we support," added Harrison. "In EMEA we are at the forefront with Webex and continue to drive the innovation of integrations, portals and single sign-on technology.
"The resellers we work with are increasing in size and their demands are different to SMEs. Globally we cover any business' communication needs, and we are looking to roll out services from the US and vice versa. Our services are available internationally and hosted via carrier-grade voice."
Harrison sees 'remarkable things for Evolve IP' following the work that has been done over the last 12 months. "The team is working together better with skills sharing and great new talent joining us," he stated. "Evolve IP will become a more recognised global brand, a vendor that is easy to do business with and can provide partners with the systems and solutions they need for their customers."