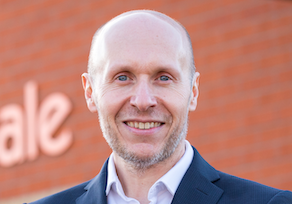 Cross-sector collaboration will increase the comms sector's true value within a channel-first and full fibre context and reap significant benefits for partners, according to Eclipse Wholesale Managing Director James Drake.
Following a 12 month sabbatical Drake established Eclipse in 2004 with a vision to at last liberate underperforming resellers from the constraints of what he saw were counter productive supplier relationships – an observation that he says is as true today as back then. "Some channel partners have lost interest in our industry due to poor levels of service or being incorrectly informed about the delivery of products and services," stated Drake. "A price list and access to a supplier portal are no longer enough and many suppliers could be doing a better job. The main challenge for us is how to reach these partners and demonstrate the service we want to offer."
Eclipse Wholesale is emerging as a contender among the comms channel's top providers, steeped in the conviction that being channel-only is a distinct advantage as it seeks to become the leading supplier to small and medium channel partners. According to Drake, Eclipse's model is efficient and scalable and its targets for this year and next are significant compared to previous years. "We want to consistently add new channel partners every month," he added. "The room for growth is exciting but will require focus and hard work, plus getting our name in front of the partners who need us most."
The thought of solving someone's business issues with technology still gets me into the office every morning
Having harnessed his strategy to the cause of partners, Drake effectively repositioned the business as having its roots in channel territory. It's this, and his go-to-market strategy, that Drake says holds the key to long-term success. "The turning point was our decision to go channel-first and move away from direct sales," he added.
Eclipse began its commercial life as a reseller when Drake decided during his sabbatical not to become a solicitor, instead reverting to the comms sector which he first entered via an apprenticeship at Kingston Communications as a Trainee Technician after leaving school in 1991. He moved to Canon in 1997 and then to Easi-tel in 1999. It was a call for help from a former large retail customer that tugged at Drake's instinct to assist during his year out.
"Things moved quickly after I decided we could supply the services the customer wanted better than their incumbent," he explained. "The thought of solving someone's business issues with technology still gets me into the office every morning. Over the last 20 years we have sold many products via different sales channels. However, our focus is now firmly on channel-first."
Drake's strategic outlook is not complicated, nor is Eclipse's portfolio proposition of connectivity and mobile solutions. "We expect these two strands to continue to grow," he noted. "The pandemic has placed demands on ISPs to deliver more bandwidth and bigger networks that cater for greater quantities of data usage on their networks. This trend will require Eclipse to sell more connectivity to our customers, offering alternative and resilient networks with access to bigger bearers."
The activities of altnets highlight the way powerful channel relationships, new technology and revolutionary industry changes intertwine, despite the roadblocks. "The altnets bring a fantastic opportunity for us all," he said. "They are providing crucial access in geographical areas previously untouched. The WLR switch-off and a full fibre future are driving our approach, engagement and strategy. But the industry has much work to do in helping customers move to a full fibre product set. The roll out of FTTP is far too slow. We still see customers who can only get ADSL. We need to use all the tools available to us as resellers to deliver the best solution now and for the longer-term. This could be a combination of 5G, broadband and Ethernet, for example. Furthermore, I see IoT as a huge area for future growth."
Drake also believes that much debate in the industry should be centred around whether the sector should take collective action on increasing its inherent value. "The cost of connectivity will continue to decline and the whole supply chain needs to be managed to maintain competitiveness and margin," he said. "I'd like to see the channel have a conversation about raising costs in our industry. The 'great resignation' has had an impact on recruitment and the costs of employment. Interest rates continue to rise to combat inflation and overheads are increasing in line with global pressures. The big challenges are margin, market consolidation and customer apathy. The market is almost over supplied and customers have so much choice. This is driving down margin. The same can be said for market consolidation as national suppliers try to upscale local opportunities.
"The value is now in the hands of the reseller and time is always of the essence – quotes, products and services need to be delivered expediently to match customer expectations. Professional and managed services may become converged into a single agreement as the costs of those services reduce. Delivering both the services and the professional management will offer an advantageous position."
Drake's big vision for his own business is also a declaration of strong intent and will surely send ripples across the industry. "I see Eclipse Wholesale as the number one channel aggregator to the small and medium partner channel," commented Drake. "We hope to achieve this strategic goal by spreading the Eclipse Wholesale message, our desire to help, eulogising about the benefits of a full fibre future and working damn hard to make sure it happens."