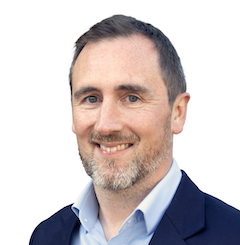 Trailblazing and tireless, CityFibre is a paragon of market disrupters, according to Head of Wholesale Andrew Wilson.
It is well documented that CityFibre is investing £4 billion into creating a full fibre infrastructure across 285 cities, towns and villages by 2025. This will reach eight million homes, support 800,000 businesses as well as 400,000 public sector sites and 250,000 5G access points. "The priority we're focused on is to take advantage of our build programme and to ensure that we enable our partners to address the needs of all the different types of customers that sit within the CityFibre footprint, at scale and through a full range of connectivity products," commented Wilson. "We're equally focused on continuing to develop our IT systems and partner platform."
CityFibre is building at scale and rapidly, but it could be said that for channel partners the build isn't progressing fast enough. "We've created such a positive momentum that we now need to continue to ensure our build programmes keep pace with the demand that the channel is creating for us," added Wilson.
"Since we're on a journey, it's about balancing the vision with the reality. We're addressing that by setting the right expectations around product and availability to give our partners a good understanding of where we are, where we're going and by when, so that they can plan their own strategy and business development activity ahead of our delivery. It's a good challenge to have.
"While we continue to face the impact and interruptions of the pandemic, we are adapting to the challenge to ensure we work to our best capability. This means maximising the opportunity and potential for our people to play their part in everything we're doing."
CityFibre was quick to adopt an agile strategy for working and ensured employees have the wherewithal to continue to work effectively on their own and collaboratively across teams as part of a hybrid approach to working from home and in offices.
"In our experience it's been important to lay down guidelines that take away the uncertainties that flexibility can create in peoples' minds," commented Wilson. "In enabling people to be aware of what we're doing and what's expected from them, we encourage and empower them to add value and to push their own boundaries."
Full fibre is a new landscape, particularly as customers make the transition from copper to FTTP
In times of market disruption one of the leadership pitfalls could be to forget where you came from and why you exist, noted Wilson. "For any business that's going through rapid growth, both in terms of the pace at which people are joining the organisation and the rate at which it is extending its reach into the market, losing the culture that's been the foundation of its initial success is arguably one of the key pitfalls that many leaders face," he said.
"As the business's growth strategy is advanced, the introduction of new people, structural changes, new systems and processes can overwhelm the essence of what makes its culture special if it's not kept in check.
"Even though the business is growing at pace, it's important to ensure that the values of the people it is recruiting are symbiotic with the culture that already exists in the organisation.
"As an example, in the time since the early impacts of the pandemic were felt, CityFibre has more than doubled employee numbers and established stronger systems and processes. But central to this has been a continued focus on helping our people understand what we're doing together as a company and the journey we're on, while encouraging and enabling them to give their best, support one another and think smart and act fast."
Although CityFibre enthuses about building its full fibre network at pace to eight million premises by 2025, the primary opportunity it is seizing is setting a new standard, claims Wilson. "We believe the network we're providing is advanced because of the way it's designed, because of the technologies we're deploying and because of how we're focused on delivering the user experience to customers, to and through our partners," commented Wilson.
"I'm particularly interested in the dynamic of the full fibre landscape and how the wholesale market is going to evolve, in terms of how ISPs are going to develop to consume a full fabric of fibre. Full fibre is essentially a new landscape, particularly as customers make the transition from copper to FTTP, so how it will dovetail into what is today a mature wholesale landscape is going to be very interesting to see."
In other developments, CityFibre is seeking to deliver ever greater bandwidth services across its full fibre infrastructure by adopting technologies such as XGS-PON. "Central to this is continually striving to provide the fastest speeds and best service quality to channel partners in the most cost-effective way, so that we maximise their opportunity to get more from the fibre that we're installing and to extend the capability of their customers," explained Wilson.
It is initiative's such as the that Wilson says will earn CityFibre cross-industry acknowledgement as the organisation that took the boldest steps to spark the UK's adoption of full fibre and build an infrastructure that created an opportunity for the channel, and which changed the landscape of the UK.
"We're already on this journey and many partners are taking advantage of it," commented Wilson. "The question for channel business leaders to ask themselves is, 'are we on the journey too, and where will we be in three years time?'."