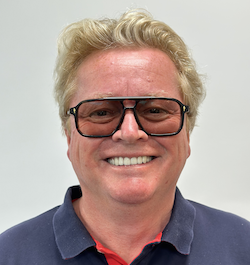 As a one-company man for almost 40 years Nimans Group Sales Director Richard Carter has made loyalty his brand, but this month the industry veteran and channel pioneer is calling it a day, retiring as planned one year ahead of his 60th birthday.
Carter's long and groundbreaking career in comms is steeped in the thrills and spills of being at the vanguard of industry and business transformations – and he remained a man of consummate distinction throughout the decades. Here, he shares his career highlights and milestones, lessons learned and key takeaways...
How did you get into comms?
After being dismissed from Leeds University in 1983 for persistent non-attendance I saw an advert in the local Sheffield paper for a job in a phone shop. The liberalisation of BT had happened that year and it seemed an exciting prospect. I got the job selling long range illegal cordless phones for a very 'entrepreneurial' company called Superfone.
How did you meet Julian Niman?
Julian was a customer and I joined him in January 1986 when Superfone went bust. I started as Showroom Sales Manager with three sales staff and that year Nimans went national and started shipping telephone products across the country which quickly accelerated the turnover to £1 million. Then, in 1987, we started selling PBXs, launching the London 12 and 32 from NTS. I remember training engineers despite never having installed a phone system myself. I was appointed Sales Director in 1988, aged just 24.
What were the key milestones in your career?
A big milestone was taking £5.5 million revenue in 1990 to £11.7 million five years later. We hit £37 million in 2000 and kept on increasing throughout the noughties. In 2005 I fell out with Julian and joined arch rival Bob Old's Rocom as Sales Director. Rocom was subsequently sold to ATC which made me MD of Rocom in 2007. Then, in a strange twist, Julian bought ATC, we made up and I was back with Nimans in 2010. Another milestone was reaching a peak of 25 per cent of the PBX market shortly after. We continued to grow and when the pandemic hit sales of home working kit exploded. Our sales reached £121 million with headset shipments approaching one million. Shortly after when Nimans was acquired by the Midwich Group in February 2022 I agreed to stay and ensure a smooth transition.
What's your next milestone?
July 31st 2023, my 59th birthday, and after 40 years in communications I've decided it's time to call it a day. I aimed to retire before 60 and I am fortunate to be able to do so.
What have been the biggest challenges in your career?
Bouncing back after my rift with Julian. And then again years later after we lost the Plantronics headset brand which was 25 per cent of the business.
Your main successes and career highlights?
The highlight has been working with such a fantastic bunch of colleagues, customers and suppliers over the years. I can honestly say almost every day has been a laugh.
What experiences and memories stand out most?
Beating all comers in a public vote to be awarded Comms Dealer Industry Personality of the Year 2008. Not bad for a boy from a council estate.
Who has had the biggest influence on you?
Julian Niman and Bob Old. Enough said.
What will be your lasting impression of Nimans and the channel?
I'm tremendously proud to have been part of the team that built Nimans into the institution it is today. And proud of the channel to have grasped the nettle back in 1983 and become the force that it now is.
Define your time at Nimans in one sentence:
Never a dull moment.
What values and lessons do you want to highlight?
Never give up. Persistence requires no training and trumps all other capabilities.
And from your career, what single takeaway do you have for readers?
In the end, loyalty does reap its rewards. To have been a one-company man for 37 years is rare but I can highly recommend it.