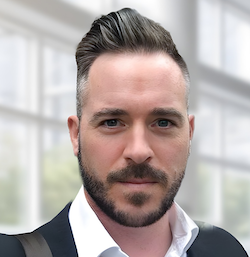 American network security company Aryaka has ramped up its UK channel activities and the man at the centre of its expansion strategy is Channel Sales Director for UK & Northern Europe Gary Read.
Read expects Aryaka's UK business to hit £500 million in annual recurring revenue over the coming three years by expanding its sales team and partner ecosystem. "We're doubling headcount this year and bringing on 100 partners through our master agents," he stated. "Looking at Aryaka as an entity, I also expect us to be recognised as a top three SD-WAN/SASE vendor."
Read identified determination as his greatest strength and having gone 13 years without missing a target the channel would be wise to take note of his intentions. "The hybrid workplace is the biggest opportunity in the UK and globally," he added. "Just like the rush for businesses to publish websites in the 2000s or get a social media presence in the 2010s, businesses are now racing to secure and optimise their networks so that hybrid working can become business as usual. Before that can happen, security, network optimisation and a cloud-first approach need to be deeply embedded into IT strategic planning, allowing for seamless movement between on-premise and remote locations. That's where Aryaka can support true business transformation."
The rise of remote working has prompted the need for a new approach to network security, and Secure Access Service Edge (SASE) is a network architecture that unites cloud security technologies with WANs. "While the SASE moniker has only emerged in the last few years the underlying need that has driven the trend has existed for decades," added Read. "As enterprises have embraced the cloud, legacy architectures like MPLS haven't proven to be flexible, cloud-native or cost-effective. Before enterprises abandon the hub-and-spoke model and truly embrace the cloud, they need assurances that data remains private and secure. As confidence grows, and hybrid working becomes even more commonplace, SASE will become an integral factor in every enterprise WAN deployment."
Businesses are now racing to secure and optimise their networks so that hybrid working can become business as usual
Read first encountered SD-WAN while working for VMWare where he focused on relationship building and signed its first global contract worth over £45 million. This deal caught Aryaka's eye and Steve Harrington – formerly of Masergy and TalkTalk Business, now Managing Director for Aryaka in EMEA – approached Read with an opportunity to drive Aryaka's UK expansion.
The UK operation is now laser-focused on increasing sales potential by breaking into more industries and finding more routes to market via master agents and sub-agents. "Moving from a consultative approach to something more scalable has been especially significant," explained Read. "We've learnt how we can better support partners, and their reseller agents, with a simplified channel experience and a simple product.
"Originally, we worked through a number of consultants but the results weren't scalable. About 18 months ago we started rethinking our partnership model and focused more on partnerships with multi-national VARs and MSPs such as Deutsche Telecom.  A partner like Lloyds Consultancy Group or DT typically provides up to 20 leads per quarter, as opposed to half that in a year through a consultant. We've been able to scale quickly by building better relationships."
We revised our partnership model to focus more on multinational VARs and MSPs. We're able to scale quickly by building better relationships
Aryaka is currently working primarily with two master agents in the UK, Avant and Telarus, helping them and their reseller partners to scale. "The scope here is phenomenal," added Read. "Through our new master agent initiatives we've more than doubled revenue compared to 2020, and as an international entity, Aryaka is going from strength to strength, growing headcount from 500 to 600 this year alone."
Growth in part can be attributed to the chip shortage still affecting supply, making SD-WAN a more virtual offering and relying less on hardware. "This reduces total cost of ownership and brings better scalability and flexibility to end users, enabling more nuanced customisation through software rather than physical devices," stated Read. "5G and incorporating mobile data pathways is another key function we're exploring with carriers, especially as failovers and to better secure remote workers."
Aryaka also keeps a close eye on competitors, learning from their wins and losses while also listening to customers and delivering on their feedback. "It's like the tortoise and hare race," said Read. "We may not be first with a new functionality but we're watching the market to make sure features are relevant and worth investing in before considering the best way to bake them into our portfolio."
Read also pointed out that having 'five nines' uptime on Aryaka's global L2 core is an indicator of how seriously Aryaka takes its reliability. "Level 3 resellers don't want to expose their operations to risk by overpromising the quality of network management and security tools," commented Read.
"And even though enterprises are far more aware of the need for robust security, translating cost into value is still a steep hill to climb. "That's where educating partners on the value of an optimised, cloud-first network comes in. We address those educational challenges while removing fears around overpromising the value of solutions."