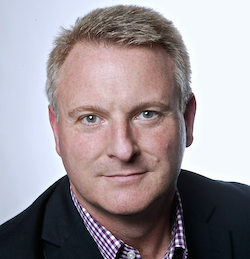 Here, Mitel VP International Richard Roberts takes a retrospective, current and prospective view of business leadership in times of revolutionary change.
From Roberts' standpoint, gone are the days when some leaders were unapproachable, cold, quick to scold and slow to reward. "We now understand that this traditional leadership model is in fact detrimental, not only to employees' wellbeing, but business itself," he stated. "Particularly, I have become even more interested in how people think and behave on a psychological level to see how I can adapt this to my leadership style. I truly believe that management techniques are evolving and that what worked five years ago, or even two years ago, is no longer applicable. Learning these new methods is inspiring, and it gives me a clarity of thought that I'm able to bring into my work.
"For example, many people in the office now take five minutes every now and then just to listen to a song, or read part of their book. This is something that we've all been mi, from early on in our careers, not to do. But now we're understanding the value of these short periods of reflection and relaxation during the day, especially after longer periods of intense work and concentration. If leaders can help their teams to secure these times of sanctuary during the day, they can make their businesses more productive and their team members happier."
Roberts believes that the workplace is changing along with evolving mindsets. Therefore, leadership approaches within our industry must reflect the changes people are trying to realise in the wider world. "Leaders must become more inclusive and genuinely listen to their co-workers," he commented. "More to the point, and specifically in the era of hybrid working, leaders have to be able to foster a positive workplace culture.
"With many of us working from home for the majority of the week, culture has become a new frontier for business success, and one that can only be conquered through the seamless integration of digital technologies that facilitate seamless hybrid working and a work culture that is truly inclusive for everyone."
The pandemic accelerated the rate at which businesses shifted to a hybrid working model, supporting Mitel's strategic trajectory towards hybrid UC. "The pandemic showed us that hybrid workplaces are here to stay and solidified our ambition to provide an elevated working experience in the digital age," added Roberts. "This is all well known by now. What people aren't discussing is the increased pressure and relevance that the pandemic brought upon communication and collaboration in the workplace, enabling these capabilities to become the reasons for which an organisation sinks or swims."
Due to the Covid-19 pandemic, I have become more eager to invest in my own knowledge and skills. Not just because I had the time to do so, but because it became obvious that it was necessary
The Covid-19 pandemic compelled Mitel to reimagine and adapt its business to new and changing circumstances. One of the most crucial developments was bolstering its cloud and subscription offering. "With a majority of employees now working from home for at least one day per week, businesses are seeking ever more flexible and innovative solutions," commented Roberts. "We are focusing on building shared working environments that encourage people to collaborate, be open and connect with each other."
Another lesson Roberts has learned from lockdown is that it would be wrong to assume that people are engaged by simply being in the office. When working from home, productivity can no longer be measured by whoever arrives the earliest or leaves the latest, it is now about who you are and what you achieve.
"The new prioritisation of contribution over attendance has fundamentally changed the way businesses operate," said Roberts. "Due to the pandemic, I have become more eager to invest in my own knowledge and skills. Not just because I had the time to do so, but because it became obvious that it was necessary. This was rewarding, as we often arrive at an age where we think we know enough, when the reality is that we can never know enough. The learning process continues, no matter your age or at what stage of your career you find yourself in.
"Another priority is to further create clarity. This encompasses as much personal clarity as organisational clarity. Without it, complacency sets in and productivity suffers. To execute your goals and make your vision come to life, it is crucial that you approach your short and long-term goals with clarity and drive. Especially while emerging out of a pandemic, setting a direction and working towards a destination has become more important than ever."
Roberts believes that leading is now geared towards 'servant-leadership'. He says a leader's ability to provide a positive environment for their team is more important now than ever in the past. "The pandemic has shown us how easy it is for people to reassess their working environments and move," commented Roberts. "The great resignation is very real, and it has become clear that people don't leave companies, they leave managers. It's vital that leaders become more tolerant and understand that their colleagues lead their own full lives away from work. So, unless you have the ability to connect well with your team, your best talent is put at risk.
"I've learned since the pandemic to become calmer and less demanding as a result of deepening my understanding of the various competing priorities that each individual has, both at work and at home. Fostering this kind of environment is infinitely more productive for businesses because just 30 minutes of true passion and inspiration from a team member will always be more valuable than an entire day of disengaged interaction."
As the pandemic reset major work trends, leaders needed to rethink workforce, performance and the employee experience. Businesses have now understood that they need to look beyond someone's role and job title, and make it a priority to engage their employees, help them feel supported and create a sense of belonging. "Only by creating a more human, honest and compassionate workplace will they be able to hold onto talent in the long-term," added Roberts.
In this context, the most prominent trend we are witnessing in the UC market is the transition of workforces towards a hybrid model in which employees are able to seamlessly work from their offices, their own homes and, building on this, anywhere in the world. "Businesses should be aiming to create shared digital workspaces where people want to congregate and come together, at least for part of their working weeks," said Roberts. "In this way, we see the re-emergence of a historic technological challenge – building a tool that people feel they own and control, rather than a tool that has been imposed upon them."
Videoconferencing, for example, used to be a harrowing experience for some people. They didn't like to see themselves on camera and felt that they couldn't be their authentic selves in that environment. "But now, through the application of AI, we'll be able to provide services that make people feel more comfortable and can help increase productivity," stated Roberts. "For example, people can currently blur their backgrounds, but soon they'll be able to have high quality real-time transcriptions and translations too, enabling different cultures and languages to all come together collaboratively."
As well as being inspired by such innovations, Roberts has also been inspired by some of Mitel's leaders who came up with new ways to interact with their teams amidst the global pandemic. "I have also found inspiration in simplicity," he added. "Being confined to my own home has allowed me to reconnect with my love for nature, and changing up the structure and pace of my usual working day has been liberating. For example, I introduced walking meetings to my schedule and enjoyed a sense of calm when taking some of my meetings while on a walk in the forest. It was great to be able to experience first-hand that you can give more of yourself when you are absolutely at ease."