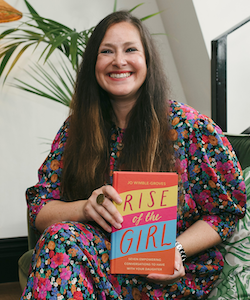 Aside from co-running one of the UK's leading mobile solution providers Jo Wimble-Groves is an award winning author and blogger and a leading light in the fight for equality in the business world.
Here she explains how channel leaders can drive change in our industry and inspire young women to pursue a career in ICT.
Wimble-Groves' opening comment when asked how young women can make a start in tech was, 'Put your hand up and don't be afraid'. Her track record to back up that statement would inspire any youngster, regardless of gender, but she's clearly a role model for young women seeking to overcome stereotypical barriers and build a successful career in the STEM sectors.
Having steered the rapid growth of London-based alongside her brother Richard Groves for a quarter of a century, the mother of three has created a much-loved blog and website (Guilty Mother) to inspire women juggling careers and parenthood, and has written a book (Rise of the Girl – Seven Empowering Conversations to have with your Daughter) to help parents motivate young daughters. She is also an ambassador for STEM, regularly sharing her story with students at schools and universities all over the UK. Her blog is now followed by 55,000 people worldwide.
In March 2019, Wimble-Groves was one of 100 women invited to No.10 Downing Street to meet the Prime Minister on International Women's Day and in 2020 won the Entrepreneur Award at the FDM Everywoman in Technology Awards. Like so many ICT entrepreneurs, her career had humble beginnings and as a young woman in the male dominated mobile sector she had to learn to be fearless, selling her first phone at the tender age of 16.
"I left school after finishing my GCSEs and went to a nearby sixth form college to study media, art and sociology," she said. "My older brother Richard had started selling mobile phones as a sideline project and somewhere along the line I put my hand up to work with him. Fast forward over 20 years and we are still working together to this day. When I first came into the industry, I was one of only a handful of women in my mobile partner community sector and I was probably the youngest. There were no female role models around me, or none that were visible to me at the time, and that remains an issue.
"I used to find myself trying to blend into the background until I realised that I could use my point of difference as a source of strength and an opportunity to leverage the Active brand. I started to recognise that being different is a good thing and put myself forward as an ambassador for STEM. I wanted to be part of a movement responsible for finding our next generation of girls in tech. It was time for me to be seen, to use my voice and to ask our girls to use their voices too for the power of good."
According to the WISE Campaign, which encourages women and girls to value and pursue science, technology, engineering and maths-related courses, only 24 per cent of STEM workers are women and despite rising numbers of unfilled jobs the industry continues to struggle to attract a more diverse workforce. Wimble-Groves believes the root cause of this is the stereotyping of men and women in STEM careers.
"In several studies, when children are asked to draw a mathematician or a scientist, girls were twice as likely to draw men as they were to draw women," she added. "I considered what could be done to change this and what was happening for girls. Was something this simple a reason why girls are not choosing a career in STEM? Stereotypes and biases can shape the opinion on what women in STEM should look like and we need to work now to drive change.
"Young female students are not seeing role models that can inspire them to opt for STEM careers. I hope I can be someone they can look up to. This is one of the reasons why I now spend time going into schools, colleges and universities to share my story. We all have a story to tell, but how often do we tell it? Just joining a school assembly, taking 30 minutes of your time could really help spark a future in STEM for a child sitting in front of you."
Wimble-Groves hopes successful women in technology will stand up and lead the fight for change. "As data shows, our girls are not inferior to boys when it comes to STEM," she commented. "We just need to ensure we are giving girls the support and a positive environment to enable them to focus on growing their natural STEM skills. It's important for leaders to show girls what female engineers and scientists look like, to tell them about women who are STEM history makers and encourage successful women in STEM to talk to students. This is how we can bring more gender diversity to STEM positions.
"Diversity is important to us at Active Digital because it brings together individual differences, life experiences, knowledge, inventiveness, innovation, self-expression and capabilities. We recognise that the talent our employees invest in their work represents a significant part of not only our company culture, but our reputation and company's achievement as well. Overall, we embrace what makes our employees unique and we're proud of that. I can honestly say that working in the technology sector is incredible and I'm so grateful for it. We are so fortunate to work in an industry that continues to evolve and innovate, even through hard times."
Just a minute with Jo Wimble-Groves...
Role model:
My drama teacher Miss Walters. She taught me how to command the stage.
What talent do you wish you had?
To be a faster runner.
Your main strength:
Public speaking. I am happiest in front of an audience and always working on helping girls and young women find their confidence and their passions. I always want to do more.
Your biggest career achievement:
Winning our first global customer service award in 2015 in Las Vegas.  
Ideal dinner guests:
Reese Witherspoon, Michelle Obama and my best friends Michelle Griffith-Robinson (Triple Jump Olympian) and Sophie Parker.
If you weren't in the ICT industry what would you be doing?
Writing more books or a full-time keynote speaker.
Best advice you have been given?
Put your hand up and give things a try.
The hardest decision you made last year?
Choosing a secondary school for my daughter!
One example of something you have overcome:
Doubting my own abilities and learning how to focus on my strengths was a game changer.
Tell us something about yourself we don't know:
I published by first book on 7th October 2021. It is an incredible feeling to walk into a bookshop and see it!  
Proudest moment:
Being invited to 10 Downing Street for tea with the Prime Minister as one of 100 women for International Women's Day in 2019. And publishing my first book!
Top tip:
Never lose sight of your core values and why you started. And it is time to listen to your customers more than ever before.