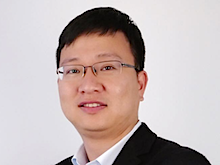 Yeastar CEO Alan Shen has predicted a bumper year for hosted comms providers as more SMBs than ever gear up to migrate away from on-premise telephony systems.
Shen's trend analysis is supported by figures contained within an Eastern Management Group report which says hosted PBX sales now account for 18.1% of the total PBX market, up from 3.6% in 2010. 
The report also states that small businesses with under 50 users will make up the largest hosted PBX market during the mid-term forecast period.
"If you are a hosted PBX provider or reseller, these stats means that right now is the optimal moment to capitalise on the soaring market," enthused Shen. 
In a bid to help resellers capture this 'optimal moment' Yeastar has developed a centralised hosted PBX service platform, called Yeastar Management Plane (YMP), designed to roll out hosted PBX services 'faster and more easily'.
"In recent years hosted PBX services have advanced by leaps and bounds," added Shen. "The key is to find the right approach with minimum risk and maximum profit potential."
Yeastar claims to have developed such a key with its YMP platform which, says Shen, can create a full featured live cloud-based PBX system in seconds.
"YMP is the fast lane for service providers and telecom resellers with potential margins of 70%," he added.