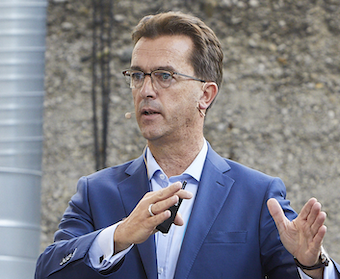 NFON has set its sights on the UK cloud telephony market with the launch of NVoice, an integration of its Cloudya hosted platform with Microsoft Teams.
 
The company has also unveiled NCTI Pro, a new desktop PBX CTI solution that allows users to integrate Cloudya communications processes with existing CRM applications such as Salesforce and SAP.
 
Speaking at the NFON partner conference in Munich, CEO Hans Szymanski (pictured) said: "We want to dominate the European cloud telephony market by delivering freedom in business communications. We are in a pole position to dominate."
 
NFON already has a partnership with Microsoft distributor Westcoast in the UK, but now plans to expand its British footprint further by recruiting IT and comms resellers keen to address customer demand for fully joined up cloud UC infrastructures across private and public sectors.
Hackney Borough Council in London is already a customer with 7,000 seats.
 
"Our sweet spot is 20 to 50 users, but in effect our solutions address any business with two to 10,000 seats," said Szymanski.
 
"We have our own platform engineered in Germany, developed and operated by us. We have agility and velocity so, when a wholesale customer approaches us, we are not tied to Cisco BroadSoft or any other platform.
 
"Our message to the UK channel is to take advantage of this opportunity."
 
NFON, which has a channel-only policy in the UK, will provide more details of NVoice and NCTI Pro, including per seat prices, at Comms Vision (Gleneagles, November 6th-8th).