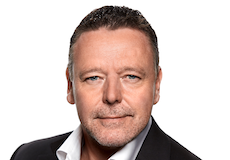 Traditional comms and IT resellers should realise that all roads lead to the cloud, according to NFON UK Managing Director Myles Leach who sets out his case.
Although still in its infancy the market for cloud telephony is growing up fast. UK penetration sits at circa 13 per cent with growth expected to hit 27 per cent in 2022, driven by businesses seeking to consolidate voice and data and introduce flexible working. "This is only going to increase," stated Leach. "Demand for cloud communications is moving like never before. There is hardly an organisation, regardless of size or industry affiliation that is not concerned about digital transformation, and cloud communications is an essential building block of any viable digital strategy."
For non-cloud savvy comms and IT resellers moving into a new market can be intimidating. "The advent of cloud computing led to the rise of software-driven businesses and a shift from big hardware margins to smaller annuity revenues," added Leach. "IT resellers have had to fundamentally change their business model over the last decade."
Voice and data were distinct markets but the rise of cloud telephony has merged the two. "Ultimately, cloud telephony is just another software application running on the network," explained Leach. "As it's an out-of-the-box solution it gives IT resellers a fast-track entry into the world of voice. Cloud telephony couldn't be easier for IT resellers to deploy and maintain."
SMEs have been identified as a key growth area for NFON UK as it seeks to consolidate market expansion in the mid to large enterprise space. According to Leach such opportunities are being unlocked by important channel partnerships such as the link-up in October 2017 with Westcoast to offer Skype for Business as a Service. "With Skype for Business integration features such as IVR, time-controlled call routing, queue management and extension-to-extension dialling are available via the Skype for Business interface, along with all of NFON's other telephony features," said Leach. 
The key to unlocking hosted comms revenues is outlining the benefits and reassuring customers that the process is easy
"Having Skype for Business as a Service changes the economics for full-blown UC, lowers the barriers of entry for the SME market and enables partners to offer a fast rollout without any onsite hardware or software, on a monthly subscription with a 30-day rolling contract."
Other partnerships of note include Scansource, a relationship strengthened by the launch of Polycom into NFON's hardware range. The three year partnership with Chess is also a significant boost to NFON UK's market presence. "Our channel offerings and partnerships have grown over the last year," added Leach. "A few months ago we opened our first UK office outside of the London headquarters, in Manchester, which will enable us to enhance our support for northern partners. Furthermore, our IPO last year has given us the financial firepower to invest more in sales and marketing."
Leach also noted that the switch-off of ISDN and the move towards all-IP networks as announced by incumbent carriers in Europe will drive further growth in the cloud PBX segment, and the best prospects sit under the noses of resellers, he believes. "Sales 101 dictates that the best opportunity is an existing customer," stated Leach. "The longest and most difficult part of the sales process is lead generation and qualification, but you bypass these costly and lengthy stages with an existing customer. 
"Marry that philosophy to the fact that customers want to limit the number of suppliers they work with and you have a huge opportunity. Customers can opt for one supplier for both their IT and voice communications. In this, the key to unlocking hosted comms revenues is outlining the benefits and reassuring customers that the process is easy."
Not long ago NFON lifted the curtain on a newly developed telephony solution, Cloudya, which provides an integrated user interface via a single login. "It's an important milestone for NFON that lays the foundation for a dynamic and constant development pathway towards comprehensive UCaaS offerings, including screen sharing, chat and video," commented Leach. "Modern customer communication services require solutions that are capable of integrating all communications processes into a single platform, while at the same time being adaptable to changing demands."
Reflecting on new market demands Leach observed that the contact centre space has evolved greatly over the last year. "Many organisations' technology and staffing plans have not kept pace with consumer demand for digital customer service," he said. "Contact centres and call centres must be able to scale rapidly, even as they develop their competencies. New digital channels and touchpoints are emerging, changing the way consumers interact with brands. Multi-channel, Big Data and the integration of the IoT pose new requirements on the visibility of customer related data. Digitalisation has become vital to succeeding in a highly competitive market, and the most straightforward signpost to digital excellence points at cloud technology."