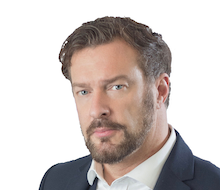 Cloud comms provider NFON has set its sights on achieving market dominance across Europe and key to realising its big ambition is partner growth, according to UK Channel Director Jon Dailey.
NFON's big ambition is to become the top cloud telephony provider in Europe and according to Dailey growth will, in large part, be fuelled by its partner strategy, of which he is a chief architect. He joined NFON as UK Channel Director in 2017 with a remit to build out a new channel programme and establish the systems and processes to advance the firm's strategic intent. "Since then we have grown and improved the programme and hired a great team," he stated. "We now have over 50 UK staff split between our Manchester and London offices. My focus is on expansion of the channel programme."
Dailey has worked in comms for over 30 years and within the channel for all but five of those years, with experience in all verticals from reseller through to vendor – and he started selling comms kit early in life. "When I was a teenager I bought a huge Motorola 85 from a phone shop and all my friends wanted one, so I started buying them in bulk and reselling," stated Dailey. "The manager was so impressed he offered me a job.
"At the age of 21 I opened my own successful mobile phone shop in Liverpool. The market was new and growing and, with a flush of youth I used the revenues to live a high life with friends and family while Charles Dunstone went on to build an empire and become a billionaire. Being self-employed teaches you to be cash driven and savvy, so I am always thinking commercially – whether I am putting myself in partners' shoes or the end user. A grounding in sales also teaches you that the most instrumental tactic in building a relationship is learning to listen."
Businesses will continue to invest in technologies that will enable them to implement smarter working practices and have a more agile workforce
In the wake of Covid-19 Dailey's priority has been to work closely with existing partners to help them on their road to recovery and ensure they make the most of the opportunities that arise. "Technologies that enable and streamline remote working are crucial, so the market demand is high," he added. "As we look ahead and adjust to a new working model, businesses will continue to invest in technologies that will enable them to implement smarter working practices and have a more agile workforce. They should be looking at their business communication strategy to ensure they have a plan should a Covid-19 scenario happen again."
According to Dailey, NFON's reccurring revenues are significantly above the industry standard and, as long as the customer is live on the platform partners will continue to earn monthly revenues. "It's a simple formula and we believe our partners deserve to have both the choice and autonomy over how they want to work," he explained. "NFON's cloud telephone system, Cloudya, is independent, which means partners aren't locked into an ecosystem that takes away their control. We know that many vendors try and take control from partners – to control the relationship with the end user. Vendor partners need to ensure that they are partners as much as possible and it has been important to live by these values."
In giving more control to partners NFON also provides business planning, qualified leads, demo support from the pre-sales teams, potential sales funding, sales incentives and business rewards along with marketing and bid support to help partners drive sales. The company's centre of learning, called NFON Academy, provides online modular sales and technical training courses. "Despite these strange and difficult times we have continued our growth trajectory," stated Dailey. "We are now actively recruiting new partners. We are not focused on a particular sector as we have seen success across an array of specialities."
In particular, noted Dailey, there is a big opportunity to sell wrap around and managed services with collaboration offerings, which is reflected in NFON's Teams integration (Nvoice for Microsoft Teams). "Many resellers don't just sell telephony, they sell IT services into customers," he commented. "Also, most of the larger vendors sell via the channel from a license perspective, so the channel can still be involved in the sale.
"The classic communications resellers sometimes struggle to get their heads around the agility of the new cloud environment. However, a lot of smaller brands and IT resellers can easily integrate this new offering into their product portfolio. NFON is even exploring the possibilities of the master agent model, by taking over billing and other tasks that partners don't want to deal with.
"Contact centre technologies also represent significant opportunities. Ultimately, the contact centre is the hub for customer engagement, it's where relationships start, get supported, and end. Businesses know that acquiring a new customer can cost five times more than retaining an existing one. In this economic climate it's crucial to enhance customer retention. Customer experience has never been more important, and many businesses don't have the technology to support multiple customer contact channels."