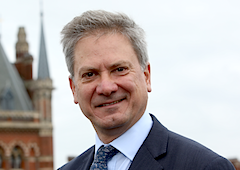 Openreach's full fibre roll out strategy received a significant boost following the activation of plans to hire 3,000 new apprentice engineers over the next 12 month and the opening of a new training centre for engineers in Peterborough.
Openreach also lifted the lid on news that 11 additional build locations have been identified, bringing the total number of towns, cities and boroughs in line for full fibre to 25 as Openreach seeks to rapidly advance its full fibre ambitions.
The company says it is on track to reach three million homes and businesses with full fibre broadband by the end of 2020. 
 
Openreach also plans to publish information on its website detailing build plans for the coming year, including the total number of exchange areas to be reached in each location. 
It will publish details of the specific exchanges where FTTP is currently being built, has already been built, or it intends to start building within the next three months. The company will update this information every three months.
Minister for Digital Margot James said:"Openreach's publication of clear plans for where, when and how it will be investing in new fibre networks is an important step. 
"Long-term commitments from the industry like this are important for local communities who need this kind of guarantee on when they will be able to take advantage of the benefits that fibre can bring. 
"Demand for full fibre broadband is only going to increase, and through our modern Industrial Strategy we've worked hard to create an environment that will encourage commercial investment like this."
Clive Selley (pictured), Chief Executive of Openreach, added: "Openreach is determined to build full fibre as quickly as possible.
"In the last year we've learnt to build at high quality and at a competitive cost. This year we'll prove that we can build the network on a vast scale and connect customers seamlessly."
Speaking at the opening of Openreach's training school in Peterborough Secretary of State for Work and Pensions Amber Rudd stated: "This is a huge expansion in high skilled, well paying jobs across the UK.
 "Training and apprenticeships can help create opportunities for women in what are traditionally male dominated industries.
"Last year a record number of women moved into work, which is reflected in Openreach's record of hiring more female staff than ever before. 
"It follows on from the good progress we've already made with 70,000 women since 2010 starting work as science and engineering professionals."