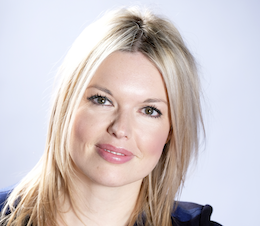 Openreach is doing everything in its power to overcome the practical and regulatory challenges faced by full fibre providers as we move towards Digital Britain, says Katie Milligan, MD for Customer, Commercial & Propositions. 
The grand project to overhaul the UK's comms infrastructure was always going to be tough. The Government has set a target of 15 million premises connected to full fibre by 2025, with nationwide coverage by 2033. "It is a huge task and, as a business and industry, there's a lot do to achieve that vision," stated Milligan. "The regulator is doing a good job of what is a difficult balancing act. But the Government's 2033 target is a hugely challenging ambition and we need to pull together as an industry to deliver it."
Widespread deployment and take-up of full fibre will be key to the UK remaining globally competitive, and it will support the regional rebalancing of the economy by creating new opportunities in areas like health, education and social care. "I can't think of any CP that doesn't want to be a part of that bright future, but the critical thing is that to get there the planning has to start now," added Milligan. "We're not far away from publishing our consultation on the national upgrade from copper to fibre, and I'd urge any reseller to come and speak to my team about their future planning and how we can help them manage and benefit from the transition."
According to Milligan, Openreach is 'seriously picking up the pace' of its own rollout by building the infrastructure to serve an additional 13,000 premises every week. "Our current pace gives us confidence that we could reach 10 million premises and beyond, with the right conditions in place for our investment," she explained. "We know we're building ahead of demand but we're building in the midst of a digital revolution. As a country, we're consuming double the amount of data that we did three years ago and there is no sign of a slow down, so planning for a full fibre future now not only makes sense, it's critical. Building a full fibre network for the UK is all about future-proofing our digital infrastructure for decades to come."
The way the VOA calculates the rateable value of networks is a handbrake on long-term investment which we need to lift
FTTP technology will enable resellers to offer customers ultrafast, ultra-reliable services that help businesses to compete and grow, and consumers to do everything they want to do in their digital lives, simultaneously and without interruption. "It will enable new, transformative applications that haven't even been considered yet, and it will be a platform for 5G, the first generation of mobile technology that's designed to support the full spectrum of applications, from mobile broadband and entertainment services, to industrial applications such as robotics and logistics," commented Milligan.
"But a major challenge for us and the industry is business rates. We all hoped the Chancellor would announce a review of the 'fibre tax' Cumulo rate in the Budget, so it's disappointing that didn't happen. The way the VOA calculates the rateable value of networks is a handbrake on long-term investment which we need to lift. More helpful were the consultations on new builds and wayleaves which will help us all reduce costs. In fact, we're encouraged by the cost points we're achieving on our own build now thanks to innovation and learning at scale."
But cost is only one side of the equation. The big challenge is take-up, pointed out Milligan. "We're building ahead of demand so need to see consumers and businesses adopt FTTP services quickly in future to make our investments pay," she said. "We have already incentivised the adoption of FTTP for new sites and BDUK areas via wholesale pricing deals, and will continue to encourage wider adoption in the cities with attractive propositions for CPs and customers. We've also been consulting our channel partners on the potential plan for upgrading their customers to the new network as it's built. Our aim is to move everyone onto the new full fibre platform. It's pointless running two networks side-by-side."
Another key factor is open competition, and Milligan reaffirmed that Openreach will encourage others to build by taking advantage of its ducts and poles. "This is important to us as we're only going to meet the Government's ambition by working together, so we're working hard to make our infrastructure easier to access and use," she explained. "We need to continue improving our duct and pole access product, which will be unrestricted, and we're launching further enhancements next year. We've seen the number of CPs using PIA nearly triple and in August we published our Draft Reference Offer, an important step on the road to launching an enhanced product in April 2019."
 
To push things along Openreach is working closely with CPs, Ofcom and the Office of the Telecommunications Adjudicator (OTA) to develop the PIA specification through the Passive Industry Working Group. "DPA hasn't had the interest or focus to make it a large scale product, but we've done a huge amount of work to develop it and we're still making improvements having consulted with the whole industry," added Milligan. "We're determined to be a dependable partner when it comes to sharing our infrastructure.
"And when it comes to creating the practical conditions that will ensure the industry meets the Government's targets, we're working closely with Ofcom and others on the enablers for full fibre, for example the conditions around the upgrade from copper to fibre, and principles around getting a fair bet on any investment. We'll also be responding to Ofcom's BCMR consultation and we believe full fibre is a key enabler of 5G. With an ever expanding range of leased line products at continuously improved pricing, we believe we're creating the conditions to support the early 5G roll out."
Our aim is to ultimately move everyone onto the new full fibre platform. It's pointless running two networks
The opportunity for the channel to provide more products and services than ever before is enormous, according to Milligan. "Full fibre networks will be needed to provide the back-end data shifting muscle for the next generation for 5G mobile networks," she added. "5G is set to completely transform the way we do business and promises to boost efficiency and unleash the potential for automation. 5G will also enable a greater exploration of the development of technologies like virtual reality and augmented reality.
"Full fibre is also the driver for a multitude of new emerging services that can be built off that infrastructure, such as the Internet of Things, including fully automated homes, driverless cars, e-health applications and social services at home. All this relies on the greater capacity, reliability and consistency of service that you get with FTTP. But the tipping point will only come when there is sufficient scale and a sufficient number of people using and consuming products and services on full fibre. That's why we're building a business case that enables us to invest at scale and build at pace."
Digital Britain is one of Ofcom's biggest priorities, noted Milligan, and the watchdog is keen to understand how to help the industry meet the challenges including the creation of a level competitive playing field. "By ensuring we are opening up our ducts and poles, and also by enabling competition at the network level as well as the retail level, Ofcom is indeed creating the conditions for a competitive playing field," stated Milligan. "Ofcom will have a role to play in continuing to guide the industry's thinking going forward."
Openreach is advancing a number of products and programmes designed to help CPs make the transition towards an all-IP world, such as the planned pilot and launch of its Single Order GEA (SOGEA) product suite in 2019. Openreach also announced that the WLR platform will close in 2025, and its FTTP ambitions are crystal clear. "When we see the majority of large and small CPs actively consuming FTTP – and all CPs who signed our recent NGA offer have an objective to consume FTTP by the next financial year – I think we will have crossed the chasm," stated Milligan. "CPs will be able to think of the services they offer exclusively on IP terms where it's available."