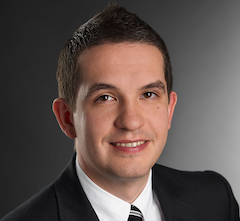 Partnerships have rarely been so indicative of the connectivity market's future direction as last month's link-up between SSE Enterprise Telecoms and CityFibre.
The addition of CityFibre's Ethernet services to SSE Enterprise Telecoms' portfolio gives channel customers more choice when selecting last mile tail providers for Ethernet services. But there is more to the partnership than meets the eye. "It's important to understand where both organisations fit within the industry," stated George Wareing (pictured), Sales Director at CityFibre.
"SSE Enterprise Telecoms is a high bandwidth provider for UK wide national solutions, with long distance trunk routes. Meanwhile, CityFibre is focused on densifying its metro access networks to serve 20 per cent of the UK across entire towns and cities. We help SSE Enterprise Telecoms get to customer premises in our full fibre network cities, complementing its sweet spot with high bandwidth access services and injecting fresh choice into the end-to-end solution."
SSE Enterprise Telecoms and CityFibre are well aligned at a strategic and physical network footprint level and have collaborated on a number of projects prior to the Ethernet partnership. "The deal is mainly about diversifying the choice of last mile providers for our channel customers," added SSE Enterprise Telecoms CEO Colin Sempill. "We're offering alternative backhaul solutions with various last mile partners, enabling greater local access options for clients."
The primary objective of CityFibre – and its wholesale business Entanet – is to secure connections on the network and grow its footprint. "Our relationship with SSE Enterprise Telecoms dovetails with the role of Entanet," commented Wareing. "SSE works in a different space with its own channel and a focus on the larger scale wholesale, specialist reseller, enterprise and mobile markets."
The shift from bandwidth scarcity to surplus will change how connectivity is perceived
SSE Enterprise Telecoms operates a 12,000-plus km private network and an estate of 80 UK data centres. To provide last mile services over CityFibre's network, SSE Enterprise Telecoms has created 15 Network to Network Interface connections, so its customers can benefit from the quickest route back to the core and from one point to another. The company is currently unbundling 177 BT exchanges as part of its Project Edge plan which will increase the overall network reach by 132 per cent and add 180,000 new business postcodes after completion. "We're also ramping up our channel activity with organisations that align with our business proposition and have strong growth ambitions of their own," noted Sempill.
Across the comms industry, observed Wareing, more and more channel partners are recognising the long-term value of alternative access provision. "With fibre being built to every location in our towns and cities, Ethernet provisioning will become more akin to a quick broadband delivery than a major undertaking," said Wareing.
"Previously, you needed a business case to move speeds up by 10Mbps but now it's easy just to provision gigabits of capacity. The shift from bandwidth scarcity to surplus will also change the way connectivity is perceived, while driving the cost per connection down. This also means expensive technologies like MPLS are being rapidly replaced by lower cost and better SD-WAN solutions. We're finally starting to see the same 'software is eating everything' dynamics changing the world of Ethernet."
According to Wareing, it would be folly to underestimate the impact of the UK's shift to a full fibre enabled economy and the demand it will drive beyond anything we are seeing today. "Next generation digital infrastructure sparks fresh innovation, new possibilities emerge and with that comes further widespread transformation, changing the way people live and work and driving demand for faster and better connectivity services across all sectors," he stated.
In this new gigabit world, Ethernet suppliers will need to compete on flexibility, pointed out Wareing. "Customers will look for suppliers that do a great job on the connectivity and don't try to tie them to multi-year contracts," he commented. "Traditionally, customers needed a lot of help to navigate the complexities of connectivity selection, but in the gigabit era it's no longer a complex decision. Speeds become available at sensible prices and everything runs over fibre – and customers will stay loyal because of the vast improvements in service that become possible over a modern full fibre platform."