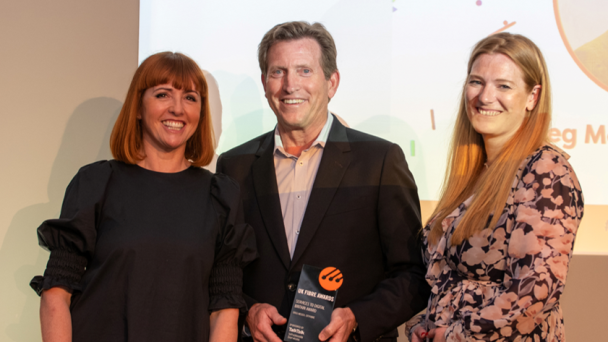 Hats off to pioneering CityFibre CEO Greg Mesch who collected the Services to Digital Britain award during the inaugural UK Fibre Awards (London Marriott Hotel Grosvenor Square, June 9th). The 2022 Hall of fame included Wessex Internet which picked up two gongs and Giganet was named Overall Fibre Provider of the Year.
The awards event, staged by BPL Business Media and supported by FibreProvider.net, was hosted by podcaster, writer and comedian Cally Beaton.
Andrew Wilson, Head of Wholesale and Carrier at CityFibre, stated: "Celebrating those involved in the UK's full fibre rollout is important and we'd like to congratulate all of the award winners and those highly commended. It was a fantastic opportunity to see first hand the difference we are all making to the UK's full fibre future.  It was great to see so many of our friends and colleagues from around the market."
Giganet CEO Jarlath Finnegan added: "We couldn't have done it without our people, partners and customers who have supported us every step of the way.
"A big thank you to FibreProvider.net and BPL Business Media for putting on a fantastic event, and huge congratulations to all the winners and runners up."
BPL Business Media Editorial Director and awards co-ordinator Nigel Sergent enthused: "The fibre provider community is growing in size and stature and we were delighted to bring together nearly 300 of its major players for a day of celebration and top class networking. Congratulations to all our winners.
"I am extremely grateful to our judging panel who gave up their time to judge the awards and a word of thanks must go to our headline sponsor CityFibre and all our award sponsors for their invaluable support."
The independent panel of judges included Principal at Cartesian, Simon Evans; Media Consultant at Channelstar, Simon Meredith; Head of Public Affairs at ISPA, Andrew Kernahan; and IT Writer and Commentator, Will Garside.
2022 UK Fibre Awards winners...
SERVICES TO DIGITAL BRITAIN AWARD – Greg Mesch, CityFibre
BEST FIBRE INNOVATION AWARD – Mills
BEST FIBRE ROLLOUT SUPPLIER – Hawthorndon Developments
ROLLOUT CHALLENGE BUSTER AWARD – Wessex Internet
BEST FIBRE MARKETING AWARDS – Pure Broadband Internet
FIBRE PROVIDER INVESTMENT AWARD – CityFibre
BEST RURAL FIBRE PROVIDER – Wessex Internet
BEST URBAN FIBRE PROVIDER – G.Network
BEST WHOLESALE FIBRE PROVIDER – TalkTalk Wholesale Services
OVERALL FIBRE PROVIDER OF THE YEAR - Giganet
Pictured (l-r): Beaton, Mesch, TalkTalk Wholesale Service CSO Ruth Kennedy