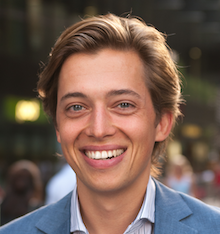 The construction of HS2 has been pushed back again and with contractors struggling to keep to the £56 billion target build cost FluidOne Chairman Piers Daniell has called for the project to be scrapped.
Daniell believes the UK should abandon HS2 – and other costly infrastructure projects – in favour of wholesale investment in fibre connectivity. "Instead of concentrating on a platform that would benefit us, our children and our children's children we have focused on several national projects that are dated and mired in controversy," he said. "We are going to sink billions into a century old technology that, according to the CBI will end up creating a 'two-speed England' let alone Wales, Scotland and Northern Ireland. This investment along with Heathrow and London's Crossrail is a patchwork quilt approach and doesn't include the masses across the country who have shown through the Brexit vote that they are being left behind."
Daniell's views have been backed up by research carried out by top US pollster Frank Luntz who, in a briefing to the Conservative Party, said supporters would be more likely to support a leadership contender who pledged to axe HS2. Meanwhile, the Midlands Economic Forum (MEF), which has produced new analysis on the controversial high-speed rail link, has raised concerns that phase one of the scheme – which is set to link Birmingham and London – may not be complete until 2030. And, taking into account the further delay to the completion of Crossrail, that timeline has to be optimistic. Daniell is convinced HS2 will end up costing over £100 billion or more and will not benefit people across the whole of the British Isles.
We should be lighting up the UK with true end-to-end fibre optic cable
"We should be lighting up the UK with true end-to-end fibre optic cable, enabling our country to lead the world in the digital economy," he added. "Every part of our country would benefit from an infrastructure that works at the speed of light, a platform onto which countless businesses and industries could be built, millions of physical journeys avoided, and cost savings delivered throughout the public sector."
Daniell's views chime with those of Per Odling, a telecoms professor at Lund University in Sweden who is pushing his country to take digitalisation to the countryside. Odling says digitising the countryside as well as cities will bring major benefits such as new online healthcare services to all people, rather than just those with access to a fast digital network. "I would be more inclined to live remotely should the investment in a digital infrastructure enable that," said Daniell.
"There is no argument for keeping HS2 alive and Government would be wise to can the project and throw all its might into a truly successful and forward-looking fibre optic network. It does not mean we cannot revisit the idea of super-fast travel between our cities, but let's review that on the basis of emerging technologies that enable people to 'virtually' communicate at the speed of light."
Daniell says the benefits and opportunity for connecting every part of our country to fibre optic is well understood and even BT proposed the idea to Margaret Thatcher in the eighties. "Imagine what a country we would live in today if we had that kind of infrastructure through the nineties and noughties," he speculated. "A lack lustre effort by previous governments to improve broadband speeds with a 'superfast broadband' roll out has managed to connect five million homes and businesses and generated an increase of £9 billion in revenue for companies as a result."
The Department or Digital, Culture, Media and Sport commissioned Ipsos Mori and Simetrica to ascertain the economic impact of the broadband subsidy programme during 2012 and 2016 and it was calculated that there had been a £690 million net increase in gross added value to the UK economy. "We saw dramatic returns, and that doesn't include the £500 million returned by BT as part of the funding scheme because take up was higher than expected," added Daniell.
Some argue that 5G will deliver the high speed connectivity applications required, but Daniell is not convinced. "5G has a future and a role to play, but it is limited by physics and I'm sure it will be superseded within a decade by 6G or the like," he added. "Fibre on the other hand gives us a platform on which lasers and optics can be upgraded for decades, achieving speeds we can't even imagine today. That is what we should be investing in, not old technology to satisfy our needs for the next few years."
According to Daniell, the Government should commit to bringing optical fibre to every part of the country within the next five years and achieve a level of investment that would see massive savings compared to HS2, and deliver a huge return for the UK economy and society as a whole. And with the Brexit debacle creating an increasingly divided country, he believes it would be a unifying force. He added: "I truly believe that investment in a digital infrastructure would help unite our country and provide us with a globally leading platform on which to base the future of our economy and society."