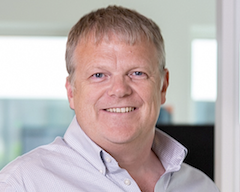 That the case for cloud-based ERP is unassailable and scale key to success is a given, says Paul White, Exec Chairman of The NAV People (TNP), but market potential can only be realised if partner skill levels become an open book.
TNP's acquisition of certain NAV-focused assets from the administration of K3's Dynamics business unit in June was another step forward in the firm's strategy to keep building the scale required to provide the depth and breadth of support that customers now expect. "The opportunity to transition customers to the cloud is significant," stated White. "But we're not seeing them do this for cloud's sake. They are looking at their deployment options when deciding to upgrade their ERP, which they generally do when the business changes. Some choose to stay on-premise, many opt for Azure in a managed service environment, while an increasing number are going public SaaS. Microsoft Dynamics 365 Business Central supports all three choices."
There is a broad opportunity to migrate business ERP systems to the cloud, according to White. It's a reality that was underpinned by investment from FPE Capital in 2018, since when TNP has doubled customer numbers as more companies seek to upgrade legacy business applications and migrate deployments to the cloud. "The transition to the cloud creates challenges for smaller competitors, and a significant opportunity for those with the depth to deliver the services customers require," said White.
TNP was founded in 2008 to support customers using Dynamics NAV (now Business Central) with a higher level of service. "That remains the focus of the business," said White. "Any discussion about ERP software runs the risk of leaving many people cold. The team at TNP however are fascinated by the extent to which a flexible product, that is well implemented and supported, can liberate SMB businesses between 20 and 200 employees, allowing them to be agile and regularly change processes to suit."
The transition to the cloud creates real challenges for our smaller competitors
TNP currently has 500 customers, 190 people and generates £23 million revenue. Its clients range from a relatively small business that wants to get a core finance system up and running in a week, to some of the UK's largest distributors and retailers. "Over the last two to three years we have been focused on gaining scale, the ability to serve many more customers while maintaining culture," added White. "It's a fascinating balance to try and strike."
 
White fully expects the UK SMB market to be increasingly served by a smaller number of bigger players. "Historically, the business applications software market has been fragmented," he explained. "There have been literally hundreds of accounting, ERP and CRM vendors, all fighting for a small piece of the action. We think that the market will now consolidate around five names – Microsoft, Salesforce, SAP, Amazon and Oracle. The winners in this pack will have a very large scale public cloud infrastructure, a low code development platform, ERP and CRM business applications, and a channel strategy that offers customers choice and access to large numbers of skilled people."
ERP software isn't getting any cheaper for vendors to maintain and develop. Meanwhile, the shift to cloud has increased customer expectations about the speed of development and delivery. "The economics of the relationship between vendors, ISVs and resellers has had to change and will continue to do so," noted White. "That has wrong footed many reseller businesses, some of which were founded in the 1990s by people in their 30s. There's a generation shift underway compounded by the channel strategy issue. Large scale consolidation has already taken place, and more will follow."
The early 1990s also saw White's first introduction to the IT sector – he spent a year with Honeywell Bull as part of his degree course. The intention was to take up a full-time post but having caught sight of a job advert in The Guardian he rewrote the plan and joined Systems Union in 1990, a privately owned company with circa 50 employees at the time. "Its software looked more interesting," he said. "That judgement was right. The business grew to 1,000 employees."
White then joined Pegasus Software in 2000 followed by a spell at Touchstone before embarking on a 12 year stint with Microsoft in 2005, during which he ran the business applications partner channel in the UK and was later responsible for Product Marketing for the SMB focused apps Dynamics NAV and Dynamics CRM. In 2017, TNP co-founder and Chairman Peter Lingham was looking to retire and FPE invested in the business to make that possible. "The FPE and TNP team were looking for someone that understood them, knew the market and could help them maintain its impressive rate of growth," stated White. "I was very happy to oblige."
He says that the IT industry as a whole is obliged to raise its professional standards because too may ERP projects fail due to a lack of expertise. "If you increase the visibility of skills capabilities then partners have to raise their game," he said. "Too many customers spend too much money with partners that cannot deliver because they don't know how to. This industry spends lots of time selling systems that improve the visibility of other businesses and industry performances. It is time we took some of our own medicine."