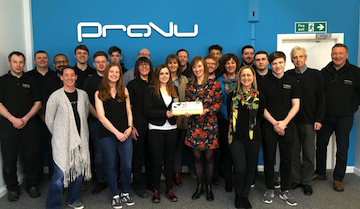 Yorkshire-based distributor ProVu has marked its 20th anniversary with a team lunch followed by various activities.
Established in 1999, ProVu was set up as a distribution business that specialised only in VoIP, which at the time was a new technology. 
Today the company represents some of the world's primary brands and ProVu has grown to supply goods and services to over 1,000 channel partners.
MD Darren Garland stated: "ProVu has come a long way in the last 20 years. Throughout our journey we have been at the forefront of the developments of VoIP technology. 
"We have been fortunate to keep a great many of our team along the way, which has allowed us to build a reputation for our technical knowledge and understanding of the industry.
"There have been so many great moments and achievements over the last 20 years and it's a pleasure to share this anniversary with the team that have made it happen."