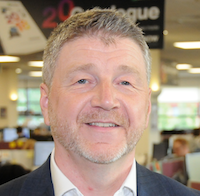 An impressive award scoop that capped a five month run of record business reveals the strength of Nimans' expanding Network Services division according to its chief Mark Curtis-Wood (pictured).
One year after launching an EE reseller channel Nimans was this month crowned Newcomer of the Year by the mobile operator.
Curtis-Wood attributed the win to an 'especially straightforward' mobile proposition which helped the distributor to become EE's fastest growing partner for 4G voice and data services including M2M and managed mobile data.
"We ended 2018 with a bang, generating the division's best ever levels of new business," stated Curtis-Wood.
Particularly strong performances were recorded in connectivity, hosted PBX, broadband, services and billing as well as mobile.
"In many ways the division has reinvented itself during one of our most challenging years as we implemented new software, portals and billing systems to future proof processes for the long-term," added Curtis-Wood. 
"The launch of our EE reseller proposition was also well received. This time last year I attended the EE Partner Conference for the first time as the new boy in the room. 
"This year I was invited to speak at the conference to share insights into how we collaborate with EE."
In what was a busy year of development for Nimans' Network Services division the business also improved and simplified its hosted proposition, boosted headcount across all areas of the operation and is seeking to ramp up further in 2019 bolstered by a new technical sales support arm.
Plans for next year include the addition of more automated and streamlined services available through Nimans' reseller portal, along with initiatives to get more hands-on with channel partners and turn up the volume on key messages to the market, building on similar efforts in 2018. 
"We staged and took part in a series of events to engage directly with more customers and drive greater awareness of our services," added Curtis-Wood.
The growth of Nimans' Network Services division is reflective of broader cross-company business expansion with overall record revenues achieved in 2018, staff numbers approaching 400 and 'realistic plans' to break the £200m revenue barrier.