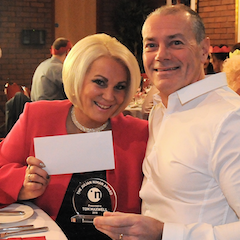 A new award launched to both commemorate Nimans founder Julian Niman and recognise stand-out staff achievements has been given to Head of Dealer Sales Tom Maxwell.
The introduction of the annual Julian Niman award marked the first anniversary of his untimely death in January 2018.
Maxwell's 30 year career with the distributor and 'outstanding contribution' secured him the inaugural accolade and a cruise with his wife Sharon (both pictured).
"I was humbled to be given this award and recognition by the Board," stated Maxwell. "Sharon and I look forward to planning our cruise holiday and will raise a glass to Julian and the Nimans team when we set sail."