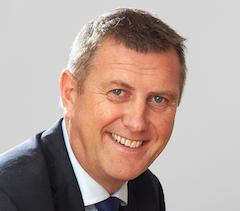 The back story of £3 billion distribution giant Exertis reveals a highly acquisitive company always heading towards the future requirements of the channel, says Distribution MD Gerry O'Keeffe.
Pre-Exertis O'Keeffe worked with the Caudwell Group for ten years in a number of senior roles. It was a character building experience that remains influential to this day. "John Caudwell was instrumental in forging my attitude and ambitions in business," stated O'Keeffe. "He grew an organisation from scratch to £2.5 billion in around 15 years. And he helped to develop a number of people who have gone on to hold senior positions in retail and distribution with major companies."
Also on the up is Exertis Group which reported over £3 billion turnover in the financial year to 31st March 2018. The distributor has partnerships with 700-plus global technology brands and over 45,000 resellers, e-commerce operators and retailers across Europe, and employs over 2,700 people in the UK, Ireland and continental Europe. Its supply chain business also operates in China, Poland and the USA. "We have acquired a number of complementary businesses and increased investment in our enterprise, Pro AV, components and print businesses," explained O'Keeffe. "We have also established a presence in the Smart Tech arena."
In 1996 O'Keeffe joined 20:20 distribution, the wholesale arm of the Caudwell Group now known as Brightstar. The mobile distributor grew rapidly over the following decade in which O'Keeffe helped to set up the Irish and Scandinavian operations. It was therefore a natural progression to join Micro P (owned by Irish Group DCC) and move into IT distribution. Notably, O'Keeffe's mobile experience was key in setting up of the comms and mobile divisions within Micro-P in 2009.
Exertis is the culmination of several acquisitions made since Micro-P was founded in 1980. For the first ten years the company just sold printers, peripherals and monitors. SharpText was also established in Ireland in the same year, quickly growing its vendor portfolio to 30 brands. Gem distribution was founded in 1984 focused on the gaming and entertainment markets. In 1989 SharpText acquired Micro-P and in 1995 DCC acquired Gem.
Micro-P continued on a strategic acquisition path snapping up Tekdata (security) in 2006, Portix in 2008 to form its mobile division, Advent Data (consumables) in 2011 and Cohort (security, IP telephony) in 2013. Gem also acquired Ztorm (digital distribution) in 2011. The ten divisions that were operational in 2013 were rebranded as Exertis, now the trading name of DCC Technology.
"Our parent company has been key to growth in enabling us to expand our technologies and geographical footprint," added O'Keeffe. "Bringing different companies under one brand and integrating the teams while ensuring we retain their particular expertise and specialism has also been an important factor."
Exertis' investment in a new 543,620 sq.ft logistics centre in the UK will meet the needs of the business to at least 2030 with a further 200,000 sq.ft space available to extend the facility. Exertis has also opened a new facility in Norfolk focused on the print and scan market. Over the mid-term O'Keeffe expects to see Exertis operating in a wider number of geographical locations, taking advantage of opportunities to grow and add technology categories in Europe and even Asia, following the example of the DCC Energy business. 
"We will also leverage our supply chain services to provide wider routes to market for our vendors, while offering more integrated solutions and services for customers focused on their respective markets – consumer, business or enterprise," added O'Keeffe.
Current technology focus areas include VR, AR, IoT and AI. "We are the global distribution partner for the Oculus for Business bundle and have been partnering with resellers on providing solutions," added O'Keeffe. "We have a case study example with SMB reseller, Immersicare, which provided an implementation of VR into the daily lives of patients living with dementia for its customer Quantum Care Homes."
As well as keeping pace with technology resellers should adapt their business models as more customers move towards paying for products and services based on consumption, noted O'Keeffe. "Successful resellers are those that become trusted advisors for their customers and provide solutions that focus on the outcomes," he added. "The service is often a key part of the solution but it needs to be valued and sufficiently recognised in the overall cost of doing business.
"The 'as a service' model is popular with end users, giving them access to the latest versions and scope to consume what they want when they need it. This is also gaining traction in the hardware arena and we are meeting the opportunity by providing a Device as a Service (DaaS) offering using the expertise of MTR and our mobile division. With our DaaS proposition we are adding in-life service and retirement to our services in an easily digestible format using a newly developed portal."
According to O'Keeffe Exertis is poised to take advantage of the convergence of AV and IT as the distributor has expertise in AV, networking, UC, security and professional services, enabling the company to provide end-to-end solutions. "This is increasingly important as so many AV products sit on the network," stated O'Keeffe. "Resellers prefer to partner with Exertis AV rather than a competitive counterpart. Consequently, we are enabling more IT resellers to sell AV and more AV resellers to broaden their product and service offering."
Working alongside the AV division Exertis's supply chain organisation has won significant new business. "Exertis SCS acts as a global outsourcing partner to companies in a variety of industry sectors," added O'Keeffe. "These services have enabled our AV resellers to look beyond their perceived trading limits and expand into new territories.
"We have opportunities to grow in many areas. For example, with the integration of Hammer and our Exertis enterprise solutions team we can help our enterprise customers across a range of vertical markets. Cyber security remains a key issue and we have a strong security portfolio that can be white labelled by resellers. We also have a Unified Communications and wireless proposition enhanced by the recent additions of Mitel and Ruckus; and a professional services portfolio with ISO27001 certification as well as Cyber Essentials Plus. So we are not short of growth opportunities and aim to grow our business across Europe and beyond."
Just a minute with Gerry O'Keeffe
What talent do you wish you had? 
To play the guitar  
What do you fear the most? 
Working too long, not completing my bucket list and missing out on time with my family
  
If you weren't in comms what would you be doing? 
Working in a business that makes a difference to people or leaves a legacy
Best piece of advice you have ever been given? 
That your health matters and being prepared to fail can help you succeed 
How do you relax when not working? 
Time with my family, a beer and cycling with friends 
What's the biggest risk you have taken? 
Leaving the comfort of working for a PLC, taking out a mortgage and jumping 25ft into Gorge Rock 
Name three ideal dinner guests: 
Trump, Putin and Kim Jong-Un. It'd be interesting to hear their conversation 
One thing you could not do without in your job: 
My PA always makes sense of my diary
Top tip for resellers: 
Constantly evolve new solutions to expand your business. Extract the maximum share of wallet you can from your customers
What possession could you not live without? 
My bicycle, it's a great way to relax 
Your main strength? 
I like to challenge myself and others by setting the bar high
How would you like to be remembered? 
As a genuine, trustworthy person who did what he said he would do