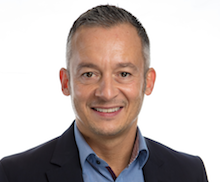 Exertis has kicked off an all-in-one enterprise strategy with the integration of Hammer in a move designed to broaden the vendor portfolio for enterprise customers and bring greater access to professional services.
The new business unit bears the combined 'Exertis Hammer' brand name and is led by MD James Ward (pictured) who reports to Paul Bryan, Exertis UK MD.
"The customer focus will see Exertis Hammer concentrate on vertical markets and Exertis' enterprise division focus on VARs," stated Ward, who was previously Hammer MD.
"This is an opportunity to refocus on our customers and core strengths with better utilisation of our complete enterprise skill sets.
"And with the financial strength and support of our parent company we aim to capitalise on the foundations that we have built in Hammer's overseas operations."
Exertis acquired the server and storage distributor in October 2016 for circa £38.3m.
The deal bolstered Exertis' enterprise portfolio and capabilities in the mid- and higher range server and storage market.
At the time of its acquisition Hammer operated from offices in the UK, France, Germany, Sweden, Belgium and the Netherlands, employed 165 staff, served circa 1,000 VARs, CSPs and SIs, and generated sales of £155m for the year ended 31st January 2016. Key vendors include Dell, Intel, Netapp, Seagate and Western Digital.
Bryan added: "With the integration of the Hammer and Exertis enterprise commercial and sales teams we will offer an enhanced vendor portfolio and extended professional services wrap.
"With his experience and pedigree James is the ideal person to lead our enterprise business in the UK and across Europe where Hammer already has operations in several countries."