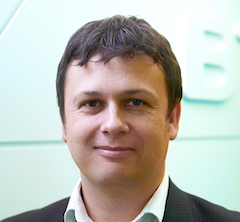 The all-IP era requires the critical laying of a digital foundation and then building upwards – that means having access to superfast, resilient connectivity, writes Paul Beacham, Senior Manager, Data Networking Portfolios, BT Wholesale.
As we find ourselves in a period of transition between lockdown and a return to the office, we are provided with an opportunity to examine how the enforced changes have impacted channel partners and their customers. For the vast majority of organisations, the lockdown required rapid adaption and the adoption of digital tools. Companies had to think quickly, and CPs were there to help ensure disruption was minimal.
Facilitating new digital requirements wasn't as simple as just providing and integrating tools, it meant ensuring that organisations had the connectivity needed to support them. Now, however, many businesses find themselves with a decision to make around how best to organise workforces and use digital tools longer-term. This is just the tip of the digital iceberg. The lockdown has forced companies to look more closely at their infrastructure and consider a deeper digital cultural shift that is built on connectivity and a switch to all-IP.
Many companies are now on their digital journeys. While some have had plans accelerated, and others have started from scratch, the immediate btigital adoption choices have also made them consider their deeper needs and how they can aid resilience. In fact, IDC argues that businesses leading in digital transformation are significantly less vulnerable to the pandemic, and companies are beginning to understand how a robust digital infrastructure can boost continuity.
Companies will find as they adopt more digital tools that not having access to a consistent, high-quality network is akin to building a house on unsteady foundations. Similarly, this transition comes at a time when the industry is prepping itself for the switch-off of the analogue-based PSTN. In 2025, there will be a shake-up of how connectivity can be delivered, and CPs should harness this opportunity.
With customers needing to add more robust digital capabilities now, the move away from analogue to an all-digital, full fibre set-up provides the foundations needed to add resilience and ensure continuity. The switch-off is coming and businesses that take the proactive step to all-IP are future-proofing themselves. CPs must explain how it will enable them to harness the many digital opportunities that are going to present themselves over the coming years.
Access to a superfast network will increasingly become a critical business component as companies adopt a more digital-first mantra. It's therefore vital that CPs help customers to understand that they must think about the complete end-to-end connectivity path, from the network to their infrastructure.
Access to a superfast network will increasingly become a critical business component as companies adopt a more digital-first mantra
Not all networks are created equal. Supporting an all-IP future is dependent on a network that provides the necessary high bandwidths and scalability, with capacity utilisation kept at a manageable level that ensures there's always headroom for spikes in demand. This is achieved through consistent full end-to-end network investment, so CPs must provide customers with the whole picture around providers and the complete offering.
 
It's also important that CPs provide a number of options that give customers choice on the best available speeds and budgets. Fibre-to-the-premises (FTTP) and Single Order Generic Ethernet Access (SoGEA), which provides broadband or Ethernet without a phone line, are two examples of technologies that sit in each other's footprint to provide connectivity to a vast majority of the country.
It's also imperative to remember that companies are now more than likely entering a period of fiscal caution. The economy is unpredictable, and organisations are looking to find their feet again after a lockdown which saw some greatly decrease trading. Therefore, despite having a desire to adopt more digital capabilities, they do not want to, and are unlikely to be able to invest heavily or engage with multiple vendors which elongates installation times. CPs must keep this at the forefront of their thinking when servicing customers.
Ultimately, while many may have had a knee-jerk reaction to the lockdown, now that the dust is settling and we find ourselves in this period of transition, CPs can help customers to think more strategically about their long-term digital needs.
There is a greater understanding of how digital infrastructure with superfast, reliable connectivity at its core can aid resilience and make organisations more robust. With the PSTN switch-off also on the horizon, companies that embrace an all-IP existence now will experience enhanced performance and growth, through the ability to support new digital initiatives and take advantage of the bow wave of digital opportunities that are coming.