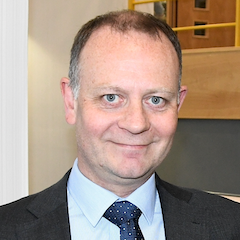 In ratcheting up its ambitions in the connectivity arena Nimans has also bolstered its expansion strategy with a relaunch of the network services arm. Nimans' adoption of the Beyond Connectivity moniker marks the creation of a distinct connectivity business within the Group and introduces a new name to the UK's network services channel market.
The move also brings greater clarity to Beyond Connectivity's expansion ambitions and signifies a ramping up of channel strategy and activity.
"A key priority is growth, which comes in many forms, including nurturing and growing the existing base while on-boarding new start-up and innovative resellers," commented Head of Sales Graham Wilkinson (pictured), the man at the centre of the new campaign.
According to Wilkinson the rebrand – which followed a comprehensive root and branch business review – builds on Nimans' heritage in traditional connectivity, adding flexibility and foresight while boosting its presence in the market and ability to transform businesses.
"In extending our strategy 'beyond' the near-term we are better equipped for tomorrow," he stated. "We're more agile and can begin to influence change ourselves in real-time.
"The rebrand also highlights how far Network Services has evolved as its own business.
"We've outgrown our previous brand and can achieve more with a new identity and vision that puts us at the vanguard of Digital Britain in an era of ever greater hyper-connectivity."