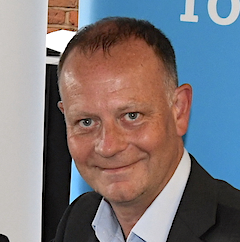 Nimans has a long-held expansion agenda and the role of network services in this is towering, reflected by a rebrand of the Network Services arm to Beyond Connectivity led by Head of Sales Graham Wilkinson.
Nimans' growing network services arm was perhaps bound to spin out brand-wise, such is the rate of growth it has experienced and the strength of the case for a distinct operation. The rebrand does not however signify disengagement from Nimans but reinforces a principle that has long been advanced by the parent company – that communications infrastructure is a key part of the organisation and an engine of channel growth. The question now is – what does the rebrand mean? According to Wilkinson the new brand displays both strategic vision and ambition and builds on Nimans' heritage in traditional connectivity. Indeed, the revamp has as much to do with a way of thinking as anything else.
"The rebrand highlights how far Network Services has evolved as its own business, which opens up exciting opportunities for me and the Group," stated Wilkinson. "In thinking beyond today we are better equipped for tomorrow and 'beyond'. Rather than chase change we can adapt alongside it in real-time. We're more agile and can begin to influence change ourselves. The rebrand also gives Beyond its own identity and web presence and provides a distinctive voice in the market. Equally, it builds on the company's existing policy to remove complexity from propositions."
The fact that the connectivity marketplace can be laden with complexity should not exclude resellers from securing a slice of the cake. This, says Wilkinson, is why Nimans turned its back on anything remotely complicated. The company has also rightly taken the view that actions speak louder than words and pictures. "Our new brand is not encapsulated in a logo, tagline, slogan or campaign," stated Wilkinson. "Brand is what we do, how we present ourselves and how customers experience us."
More to the point, the rebrand signals a 'coming of age', noted Wilkinson. "We've outgrown our previous brand and can achieve more with a new identity," he added. "It puts us at the forefront of Digital Britain in an era of hyper-connectivity. When you start to look into the potential of superfast speeds with little or no jitter, real-time applications truly become real-time, enabling developments such as driverless cars, drones for Amazon deliveries and extending the scope of emergency services to live stream doctors to accident sites and guide paramedics.
"These scenarios merely scratch the surface of the infinite scale of applications that will emerge over the coming years. This is why we decided to adopt a new strategy and brand identity, all seriously considered and meticulously planned."
The rise of fibre and 5G is already reshaping the connectivity landscape, observed Wilkinson. "Fibre roll outs are running at a phenomenal rate and with the Openreach switch off in 2025 this can only accelerate, which along with 5G presents a huge opportunity for IoT and the art of the possible," he added. "Nimans has reacted to this changing landscape in terms of how customers connect and communicate, and the underlying market forces at work."
Beyond Connectivity's proposition comprises mobile (including EE, Vodafone and O2), network connectivity (BT, TalkTalk, Virgin, Vodafone and Colt among others) and its Simplified Hosted platform. "As we move into the new world of UC and cloud-based products all of the above play an important role," said Wilkinson. "And as technology continues to accelerate we will develop and grow our proposition."
Wilkinson's own career has also developed nicely and informs his approach to the task in hand. He joined the Royal Navy after leaving school at 17 and trained as a chef. A subsequent three year stint in accountancy preceded a spell selling air conditioning and extraction units before joining Martin Dawes Telecoms 25 years ago. Wilkinson then spent 15 years with the incumbent developing and building its BT Local Business Channel and five years at RingCentral before joining Nimans in April this year. "I was looking for a new challenge and wanted something more dynamic and diverse – Nimans gave me this and I am loving the fast intense pace of where we can take telecoms in the future," stated Wilkinson.
The disciplines inculcated during Wilkinson's time in the Navy serve to strengthen his resolve and confidence. And the full scope of his experience – from working in accountancy and blue chips – continues to influence how he will stay ahead of the game. "A key priority is growth – which comes in many forms – including nurturing and growing the existing base while on-boarding new start-up and innovative resellers," added Wilkinson.
"Furthermore, cloud-based applications are controlling how we live, work and play. Everything from social media, shopping online to working environments are now based on cloud technologies that continue to evolve on an almost daily basis. Being involved in these trends and understanding the emerging technology will steer how Beyond Connectivity will move going forward. We won't be standing still that's for sure."